Basic Idea
Today there is general concern in Japan that the declining birth rate and population aging will eventually lead to a serious labor shortage. Under such circumstances, whether or not corporations can enjoy lasting growth largely depends on their ability to secure and train highly capable people regardless of their age, gender, nationality, and other personal attributes. For this reason, companies are required and are becoming more keen to provide systems that meet the expectations of employees with diverse backgrounds. Nippon Shinyaku embraces the idea that distinctive products of high quality come from persons with rich originality. The company therefore offers its employees the opportunity to work in a positively challenging environment conducive to personal growth with their differences in terms of age, creed, nationality, and so on respected. This is how we pursue the goal of cultivating an organizational culture that enables individual employees to fully develop their potential, as stated in the Sixth Five-year Medium-term Management Plan.
Related Initiatives
More Active Roles by Women
Nippon Shinyaku has long since defined encouraging women to take up more active roles as one of the company's important missions, implementing various initiatives to this end. To give the necessary nudge to women who might be hesitating for various reasons to take their career to the next level, the company has been improving the corporate environment, offering female employees with opportunities for further personal growth. In FY 2019, Ms. Miyuki Sakurai, an external member of the Board of Directors, and the company's female executives held an informal meeting to exchange ideas. The attendants pointed out that, for women to become more active at work, it was essential to realize unconscious biases existing in the organization and within themselves. With many opinions frankly expressed, the meeting turned out to be a valuable occasion to reflect anew on various unconscious biases, including both gender-based ones and those associated with age and views widely held within respective workplaces. The coverage of the meeting in the in-house newsletter is believed to have provided a broader base of employees with the opportunity to further raise their awareness. Nippon Shinyaku intends to continue improving its environment and systems, promoting diversity manifested in various aspects and enabling individual employees with varying traits and backgrounds to fully demonstrate their potential, as in the case of more women taking up more active roles within the company.
Voluntary action plans relating to the appointment of female directors and executives
The Japan Business Federation (Keidanren) publishes on its website its corporate members' voluntary action plans relating to the appointment of female directors and executives if so desired by the members.
In October 2014, Nippon Shinyaku's voluntary action plan was published.
Official Keidanren website
Supporting Keidanren's Challenge Initiatives for 30% of Executives to be Women by 2030
Nippon Shinyaku has identified promoting diversity and inclusion as one of its material issues and is striving to create a workplace environment that enables every employee to flourish by fully utilizing their diverse individuality.
In June 2021, the company announced its support for the Japan Business Federation (Keidanren)'s Challenge Initiatives for 30% of Executives to be Women by 2030
We will further strengthen our commitment to leveraging the perspectives of diverse talent, including women, for the sustainable growth of the company.
Keidanren Special site:Challenge Initiatives for 30% of Executives to be Women by 2030

Employees with Disabilities
Nippon Shinyaku promotes the employment of persons with disabilities within the company. In addition, the company also offers them opportunities for work experience on a provisional basis in collaboration with governmental agencies and several facilities supporting disabled persons' employment. Furthermore, Nippon Shinyaku is actively advocating the employment of persons with disabilities in society at large through the organization of workplace tours and participation in public lectures wherein the company's accessibility initiatives are presented.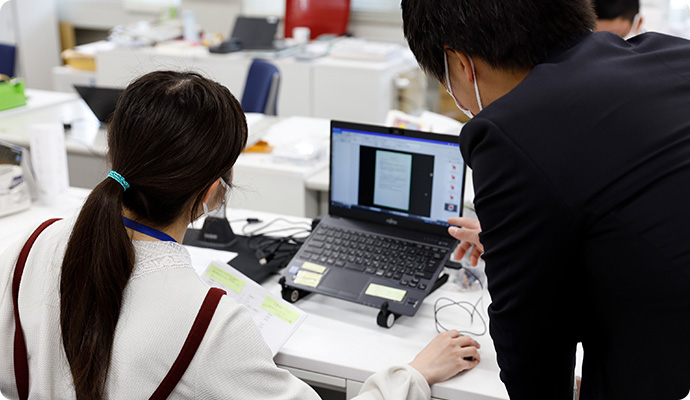 Mid-career Recruitment
Corporate competition is intensifying due to ongoing globalization and other factors. For companies' lasting growth, responsiveness to change, speedy execution, fresh viewpoints, and new ways of thinking are becoming ever more important. To obtain such qualities together with high levels of expertise, leadership skills, broad perspectives, and a breath of fresh air, Nippon Shinyaku actively turns to mid-career hires in the hope that they will lead to organizational cultural reform and corporate value enhancement. The company's number of mid-career hires has been increasing year after year, with positive results in all job types and fields.
Supporting Senior Employees Remaining Active
Nippon Shinyaku has adopted a continued employment (rehiring) system that enables employees past the legally prescribed retirement age to continue working at the company up to the age of 65. The system allows senior employees to always keep mobilizing at Nippon Shinyaku their skills, abilities, and experiences accumulated at the company. They can also design their modes of working as they wish, according to their health, family situation, and their lifestyles. Passing one's experience and expertise to younger generations of employees and instructing them are also important tasks required of rehired senior employees. Their treatment for the following year is determined based on fair appraisal of the execution of daily duties and the achievement of personal goals set in function of workplace goals. Rehired senior employees thus keep their motivations high to continue working.
Employees by type
| Classification | Percentage among all employees |
| --- | --- |
| 1. Employees who retired voluntarily within the year | 1.74% |
| 2. Non-regular employees | 13.66% |
| 3. Employees with disabilities | 1.55% |
| 4. Female employees | 33.67% |
  1. As of April 1, 2020
  2.~ 4. As of April 1, 2021