Basic Attitude and Targets
Conscious of the impact of climate change caused by global warming, Nippon Shinyaku is committed to reducing CO2 emissions through various approaches, including reduction of its energy consumption. As a long-term target in this regard, we are working toward 9,852 t-CO2 by FY 2030 (25% reduction from the FY 2013 benchmark) and zero CO2 emissions by FY 2050.
Reducing CO2 emissions and Energy Consumption
In FY 2020, Nippon Shinyaku's CO2 emissions reached 10,496 t-CO2, representing a 20.1% reduction from the FY 2013 benchmark. In the same year, the company's energy consumption was 232,000 GJ, a 4.4% reduction from the FY 2013 benchmark.
Toward the FY 2050 target of zero CO2 emissions, we are continuously promoting a range of initiatives, including not only equipment renewal but also reviews of equipment operating hours and temperature settings. Moreover, in FY 2021, we began introducing the use of renewable energy sources.
For the future, we are considering an expanded use of renewable energy sources, including the introduction of solar power generators.
CO2emissions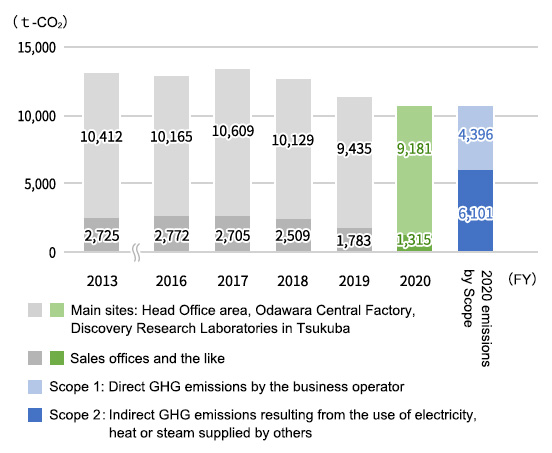 Total energy consumption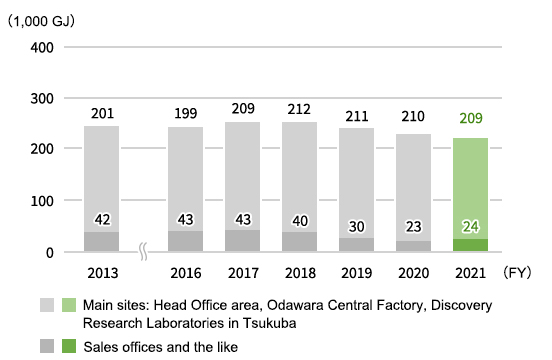 Breakdown of energy consumption by source
●Electricity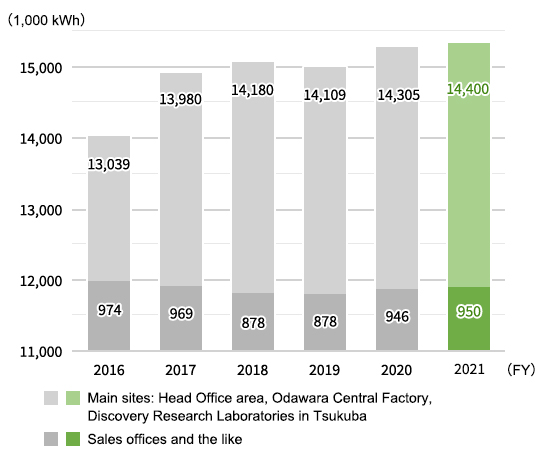 ●Town gas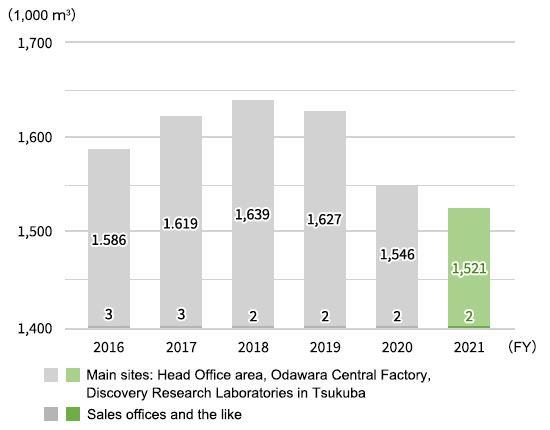 1. Reducing energy consumption through equipment improvement
On the occasion of equipment renewal, we renew air-conditioning refrigerators, boilers, and total heat exchangers. We have also been gradually replacing conventional lighting equipment with LED equipment and installing motion detectors on lighting equipment. Through these measures, we aim to reduce CO2 emissions, thereby contributing to climate change alleviation.
At the Odawara Central Factory, we introduced highly efficient chillers at the time of the renewal of air-conditioning refrigerators. At the Tokyo Office, ice thermal storage equipment (*) was introduced to level off consumption peaks.
(* This shifts daytime power consumption for air conditioning to night time, with the use of ice heat stored in the thermal storage tank during the night.)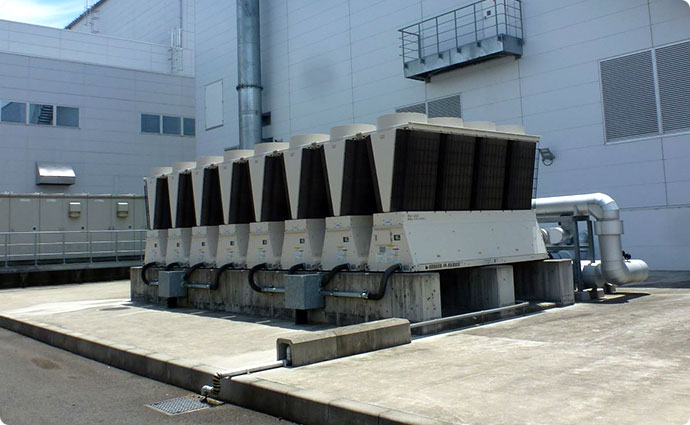 2. Introducing hybrid vehicles for sales representatives
By introducing hybrid vehicles for our sales activities and also encouraging employees to use public transportation systems while in urban centers, we are promoting measures to better respond to climate change and raising employee awareness.
Nippon Shinyaku's sales vehicles will be entirely replaced by hybrid cars in the four-year period starting from FY 2020, except in heavy snowfall areas. In FY 2020, hybrid cars already accounted for 43% of the company's fleet of sales vehicles.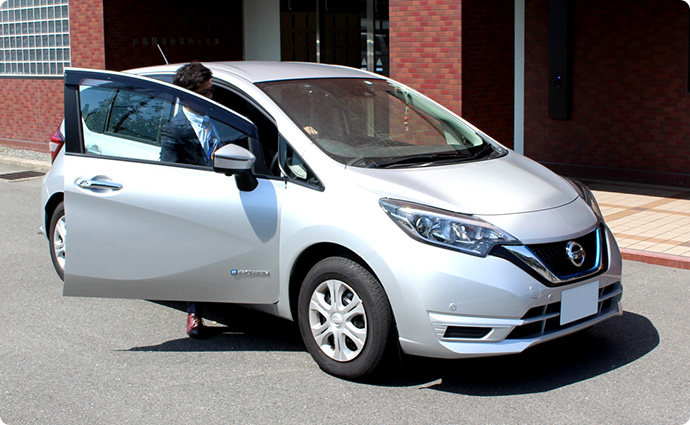 CO2 emissions from sales vehicles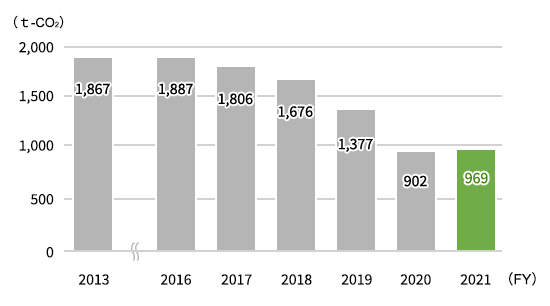 Percentage of hybrid cars among the company's sales vehicles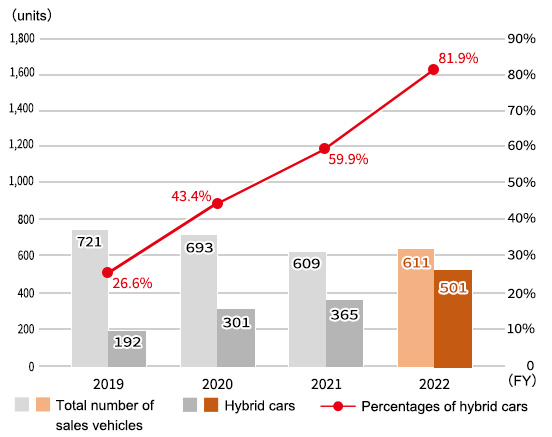 3. Energy conservation following the guidelines for saving electricity and energy
We are making company-wide power and energy-saving efforts, following the guidelines for saving electricity and energy drawn up by an in-house committee specifically established to promote conservation initiatives. Concrete company-wide power-saving measures range from appropriate indoor temperature settings to encouraging personnel to turn off all unnecessary lights and use stairways instead of elevators. We are also promoting energy-saving measures designed to fit closely to the flextime system and the decreased numbers of days employees work at the company workplaces.
Expanding initiatives
In addition to equipment renewal, equipment operating hours and temperature settings are also continuously reviewed to improve our energy-saving performance. In FY 2021, the introduction of renewable energy sources commenced. Initiatives involving the use of renewable energy, including the installation of solar power generators, will be further examined and implemented.
In-house Awareness-raising Education
The importance and necessity of environmental protection are covered in a range of in-house training and educational programs, including intranet-based training programs. These programs contribute to raising and maintaining employees' environmental awareness.
Appreciation by External Parties
Nippon Shinyaku commended for excellent GHG reduction results under the Kyoto City Ordinance on Global Warming Control
In Kyoto City, business operators are required to formulate a three-year CO2 emissions control plan and report their results achieved based on the plan, which are then publicly announced. The three-year plan that Nippon Shinyaku completed in March 2017 received an "S" rating, the highest mark for business operators with excellent results. The company was officially commended by the Mayor of Kyoto City.