Corporate profile videos
Nippon Shinyaku Corporate profile videos
30-second version
Current corporate image advertisement
Since 2020:A new way of life

Corporate Message
A new way of life
Nippon Shinyaku has always devoted serious efforts to make people's lives better.
We have challenged and achieved many unprecedented, difficult tasks, such as the launch of Santonin as Japan's first domestically produced anthelmintic, practical application of nucleic acid drugs and the development of new drugs for intractable and rare diseases.
All these efforts have been made based on our strong belief that we should help create a world where all people can live happy lives.
As symbolized by the ongoing global pandemic of the novel coronavirus (COVID-19), the world is now undergoing a significant transformation due to rapid globalization and informatization.
Today, when the future is uncertain, it is necessary to find a new form of happiness, or a new way of living.
We create "A new way of life."
In such a world in the future, Nippon Shinyaku can offer unique value.
The unique value of Nippon Shinyaku will help create a new world in the future. This is our aspiration.
Exploring the possibilities of new drugs with leading-edge technologies. Proposing new lifestyles with innovative functional food products.
Helping create healthy communities through non-work activities, such as children's literature awards and the company baseball team.
All these activities of Nippon Shinyaku are guided by the slogan.
All the stakeholders of Nippon Shinyaku, including employees and medical professionals, will share, think about, and take action for "A new way of life." This will lead us to a possible future that only Nippon Shinyaku can create.
Past corporate image advertisements
From 2019: "We want to support the coming era of centenarians with our new drugs." (centennial ad)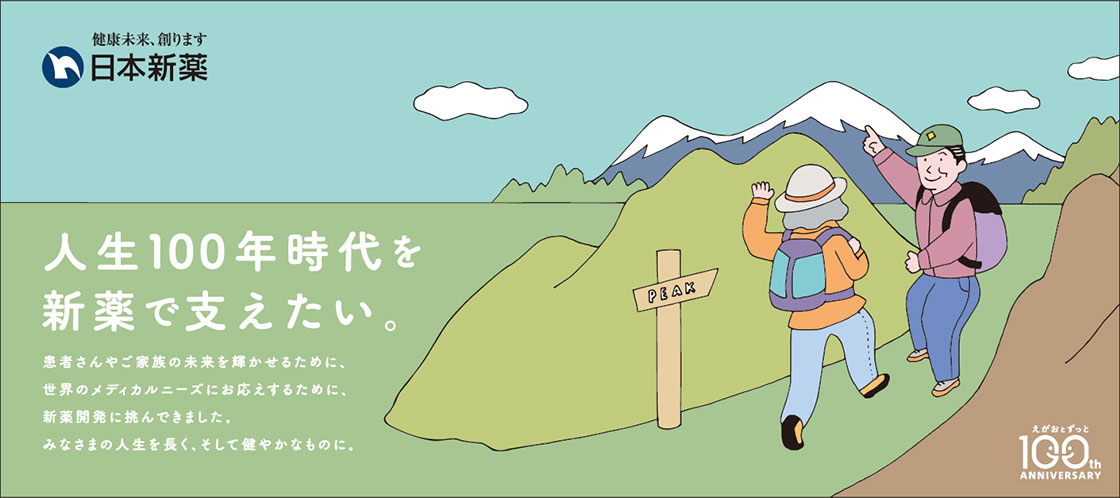 From 2017: "NO BORDER"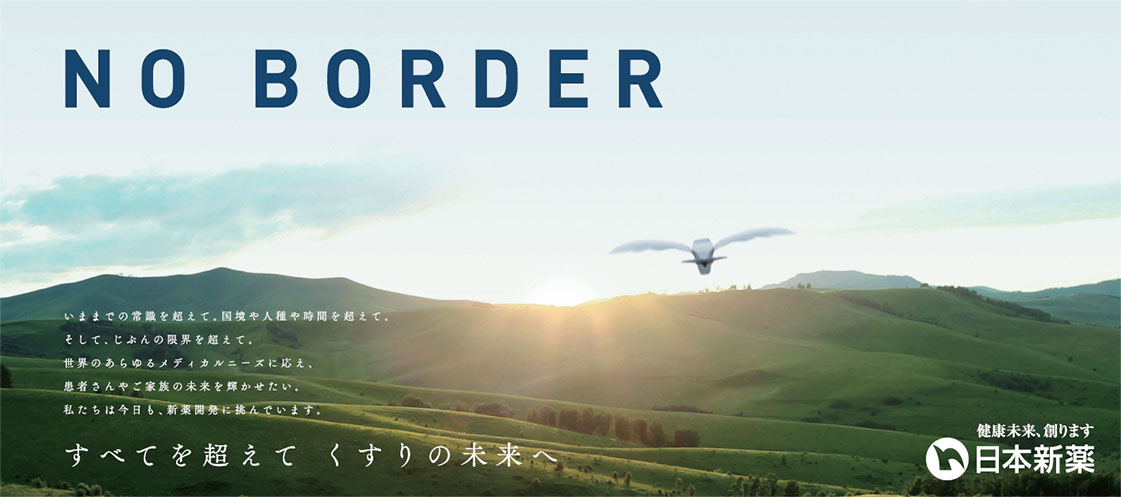 From 2015: "Good health and fulfillment"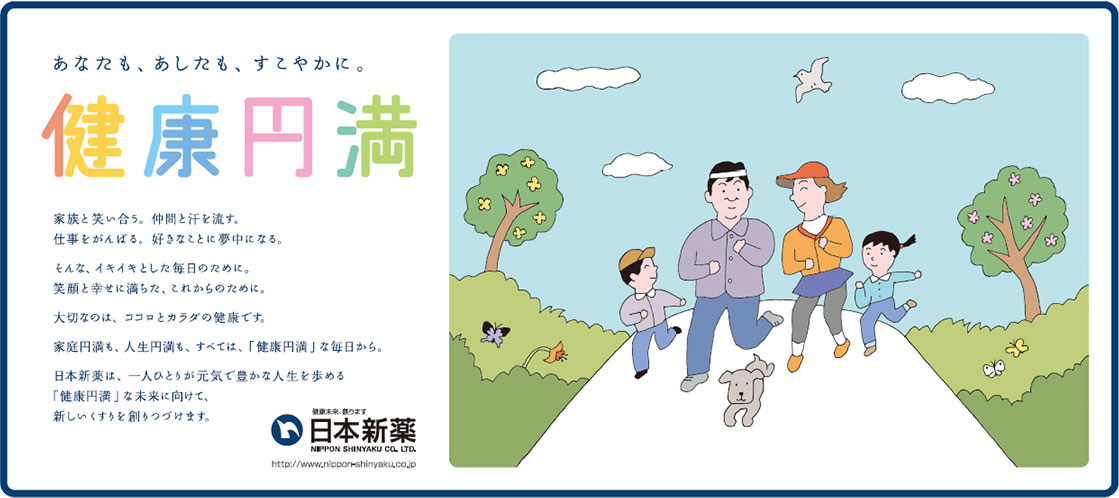 Corporate image ads up to 2014 (selection)
From 1971 to 2019, Nippon Shinyaku ran corporate image ads in Japanese daily newspapers, featuring illustrations by the well-known illustrator Makoto Wada, who passed away in 2019 at the age of 83.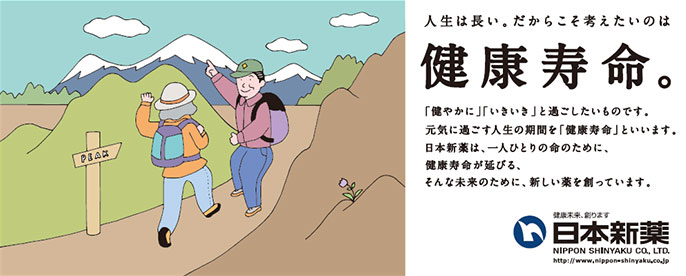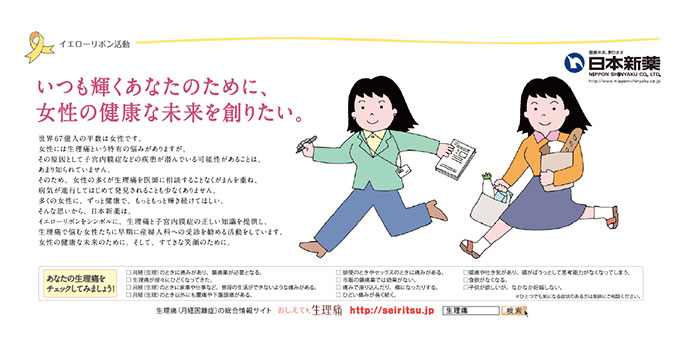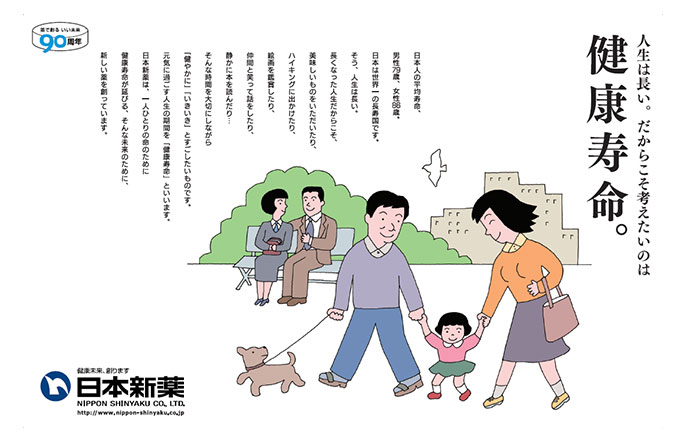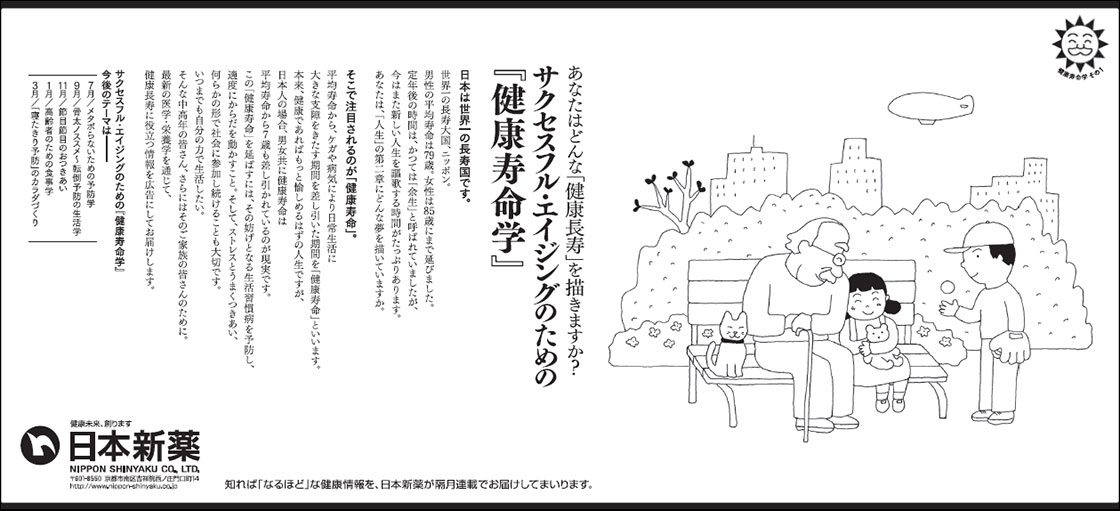 TV ads run in 2008 and books published by Nippon Shinyaku, such as "Kenko Jumyogaku Tokuhon (Textbook for Healthy Lifespan)" (published in 2010) also featured illustrations by Makoto Wada.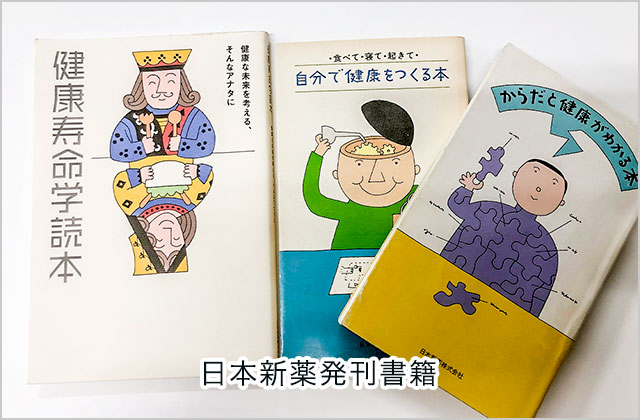 1968: The inaugural corporate image ad
In March 1968, Nippon Shinyaku began running corporate image ads in the Kyoto Shimbun and major daily newspapers with a national circulation. Those ads introduced the company's activities under the slogan "Nippon Shinyaku's new drugs fighting present-day diseases."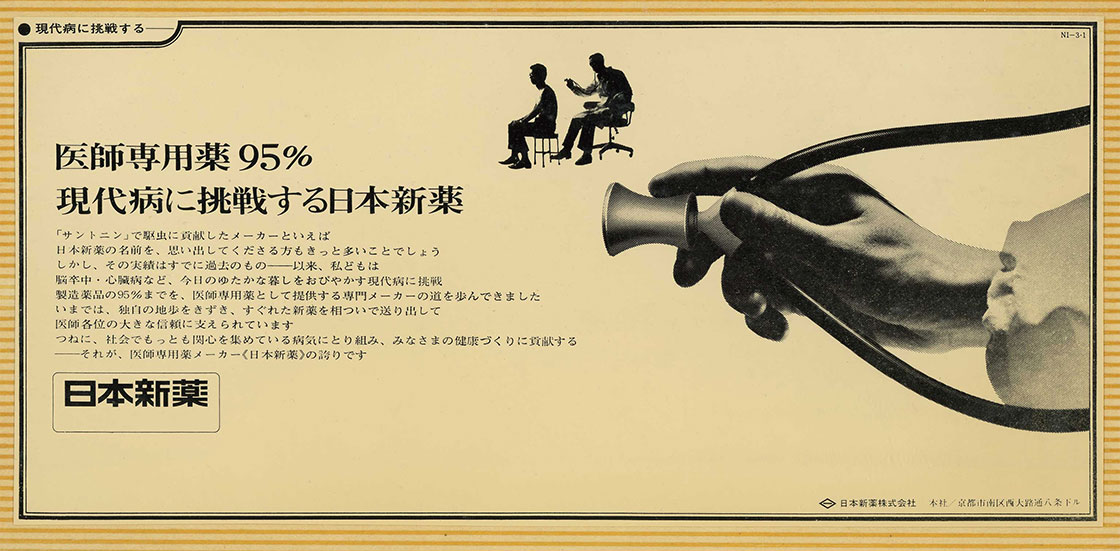 Baseball ads
We have also run corporate image ads featuring the company's baseball team.