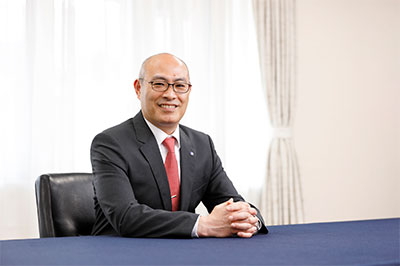 The Nippon Shinyaku Group celebrated its centennial in 2019, beginning a new phase of growth for the next 100 years.
While this milestone was an occasion for great joy and pride for us, the environment surrounding the Japanese pharmaceutical industry has been becoming increasingly challenging in recent years. This is due to factors such as the country's further advancing trends of low birthrate and population aging, the adoption of policy measures aimed at suppressing government spending on healthcare and pharmaceuticals, and changes in information activities. On top of all this, the COVID-19 pandemic has severely impacted not only the pharmaceutical industry but the whole world.
To ensure sustainable growth under such circumstances, Nippon Shinyaku is promoting, as stated in its 6th Five-Year Medium-Term Management Plan launched in FY 2019, "Six Actions" to solidify our foundation and strengthen Nippon Shinyaku's presence in the world, making it even more significant.
In our Pharmaceuticals business, mainly targeting therapeutic areas with unmet needs and centering on four focal areas (urology, hematology, intractable and rare diseases, and gynecology), we are striving to enhance our R&D pipeline while upgrading R&D capabilities by adopting advanced drug discovery technologies and testing new drug discovery modalities. Continuously launching new products, we are hoping to maximize the value of our products by providing patients, through healthcare professionals, with pharmaceuticals they need and accurate information about them.
In the Functional Food business, drawing on the advanced technological capabilities that we have developed as a pharmaceutical manufacturer, we are focusing on offering high value-added products that closely meet market needs mainly in four focal areas: health food ingredients, preservatives, protein preparations, and supplements.
With regard to our global expansion, we are planning optimal scenarios of business development for respective regions, mainly the United States, Europe, and China. Following the launch of Viltepso for Duchenne muscular dystrophy (DMD) treatment in the United States, we are further strengthening its sales structure, as well as that of other products that will follow, such as oligonucleotide drugs. For overall sustainable growth and corporate value enhancement, we are planning active AI and IT application to improve productivity while promoting digital transformation (DX) to create new business opportunities.
I ask for your continued warm support for the years to come.

Toru Nakai
President