Nippon Shinyaku Kids Channel for Brilliant Future
In October 2020, Nippon Shinyaku opened a YouTube channel, "Nippon Shinyaku Kira Kira Mirai Kodomo Channel (Nippon Shinyaku Kids Channel for Brilliant Future)" to show videos illustrating and narrating the 12 stories produced as part of the Nippon Shinyaku Children's Literary Awards.
We hope that, as outdoor and other daily activities are largely restricted due to the COVID-19 pandemic, many children will enjoy the videos and nurture their hopes and dreams for a brighter future.
Nippon Shinyaku & Seitaro Kuroda
Smiles Art Project
In March 2013, Nippon Shinyaku launched "Nippon Shinyaku & Seitaro Kuroda Smiles Art Project," a nationwide traveling art project featuring Mr. Seitaro Kuroda, a renowned illustrator. In this project, members of the general public, led by Mr. Kuroda, visit and draw pictures on the walls of local hospitals, nursing homes, and other such facilities.
By getting healthcare professionals, patients, elderly persons, young children, college students, and many others to draw pictures together, the project aims at deepening ties among people in local communities and spreading happy smiles.
Participation in a Kyoto City Board of Education project
Kyoto Manabi-no-machi Ikikata Tankyu-kan (Learning City Kyoto's Life Path Exploration Hall) is a project launched by the Board of Education of Kyoto City to offer various forms of participatory learning to promote education in life path exploration. One program within the framework of this project is Kyoto Monozukuri-no Dendo/Kobo Gakushu (Kyoto Manufacturing Hall of Fame and Learning in Workshops). This program is composed of two parts: an exhibition facility (Hall of Fame), which displays and introduces the lives and works of Kyoto-based manufacturing company founders, scientists, and other personalities, and Monozukuri Daiichi Kobo (First Manufacturing Studio), where workshops are held for participants to experience and learn about manufacturing on themes related to the exhibits at the Hall of Fame.
As a Kyoto-based company possessing technologies and products closely related to people's daily life, Nippon Shinyaku has a permanent exhibition booth at the Hall of Fame and Learning in Workshops. The booth is mainly visited by elementary school pupils from Kyoto City.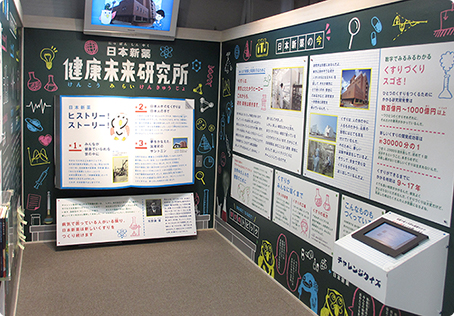 Guided tours at the research laboratories
As part of Nippon Shinyaku's community service activities, the company organizes guided tours at the Research Laboratories Kyoto in the Head Office area and at the Discovery Research Laboratories in Tsukuba City for a broad range of audiences, including students from nearby junior high schools and other secondary schools and colleges.
In the tours, guides communicate the missions of pharmaceutical companies in society, drug discovery R&D, and so forth in a manner that is accessible to each visitor group.
Research Laboratories Kyoto
Organized for students of Saikyo Junior and Senior High School,
other secondary schools and colleges, and the general public
Discovery Research Laboratories in Tsukuba
Organized for students of Tsuchiura Dai-ichi Senior High School and other neighboring schools
Disease Awareness-Raising Activities
Website-based awareness-raising activities
Nippon Shinyaku maintains several disease-specific internet websites (currently in Japanese only) to provide information that may be useful in finding solutions to specific health issues.
The website "Pulmonary Hypertension Medical Care Support", opened in 2017, provides information that helps the viewers deepen their understanding about pulmonary hypertension (PH): what is it like, how it is treated, medical expenses, related public services, and video messages from specialist physicians.
Another website, "ED Care Support", provides a list of medical institutions that offer consultations on erectile dysfunction (ED), as well as information intended to dispel commonly held myths about ED and ease psychological resistance to seeking medical attention. The website also warns against fake ED treatment medicines with related information.
The other websites include "Alcoholism Treatment Navigation", which explains alcoholism and shows testimonials by those who have successfully overcome alcoholism, and "Tell Me: Painful Periods", which recommends early medical consultations for dysmenorrhea (painful menstruation) and possible cases of endometriosis.
Nippon Shinyaku has also created smartphone apps, such as "LUNABELL Journal" and "PAH Care Notes," for patients to manage their daily medication, record physical conditions, and communicate with healthcare providers.
Participation in "Rare Disease Day"
On the occasion of "Rare Disease Day," which is internationally observed on the last day of February each year, Nippon Shinyaku carries out activities aimed at deepening general understanding about rare and intractable diseases.
Each year, we focus on one rare disease and hold interviews with physicians specializing in the disease or panel discussions with specialists and students. These events are often covered in newspapers.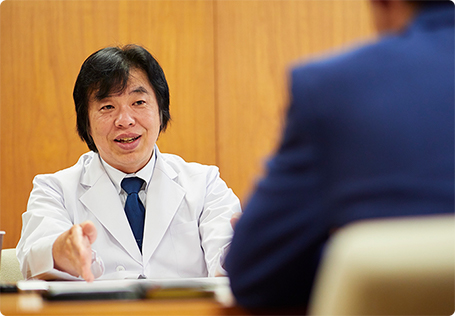 Open seminars
Nippon Shinyaku organizes open seminars for the general public on health issues in various domains. The attendants can listen to accessible lectures by specialists on the prevention and treatment of diseases.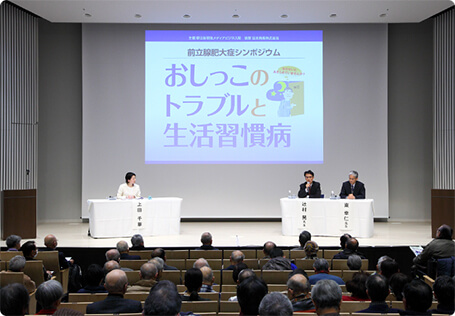 Media seminars
Nippon Shinyaku organizes study meetings for media representatives wherein specialists and opinion leaders well versed in selected subjects discuss the latest news from the pharmaceutical or healthcare fields and transmit otherwise complex specialized information. These study meetings facilitate journalists to write stories on medical topics with more accurate and detailed information, thus better informing the general public in turn.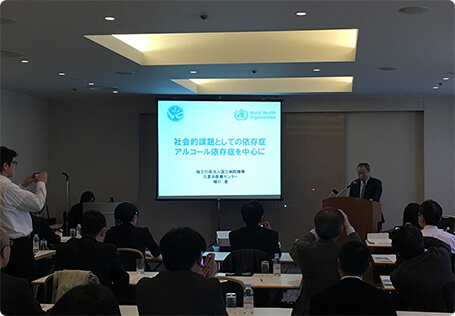 Community Service through Sports
Nippon Shinyaku and its baseball team promote sports in the local communities by offering practical baseball instruction at various events targeting different audiences, including elementary and secondary school students and college students.
The baseball team members serve as coaches in Children's Baseball Lessons held each year in February jointly by the Kyoto Baseball Association and the Kyoto City Sports Association at Wakasa Stadium Kyoto. The event usually draws about 200 participants belonging to children's baseball teams in Kyoto Prefecture.
In FY 2018, Nippon Shinyaku inaugurated Tee-ball Classes at the Head Office Baseball Field for children from the nearby Hachijo Kindergarten. The company has also been hosting baseball lessons to promote sports among the general public in locales outside Kyoto Prefecture, including Odawara City, where the Central Factory is located, and Kushimoto Town, Wakayama Prefecture, where the company's baseball team holds a training camp each year.
Moreover, the Nippon Shinyaku baseball team organizes a winter training program for the Kyoto Prefecture Federation of Senior High School Baseball Teams in November each year, coaching some 300 members of the baseball teams of 74 senior high schools in Kyoto Prefecture. In addition to instructing competitive senior high school and college baseball players, the company's sporting events also contribute to help enhance the general public's physical health and form friendly ties between the company and the local communities.