Basic Idea
Today there is general concern in Japan that the declining birth rate and population aging will eventually lead to a serious labor shortage. Under such circumstances, whether or not a company can enjoy lasting growth largely depends on its ability to secure and train highly capable human resources regardless of their gender, nationality or age.
Based on the idea that distinctive products of high quality come from persons of great originality, Nippon Shinyaku respects diversity and offers its employees the opportunity to positively take up new challenges and achieve personal growth. This is how we carry out the action of creating an organizational climate in which every employee can flourish, as stated in the Sixth Five-year Medium-term Management Plan.
In 2018, we adopted a flextime system for MRs. Furthermore, in 2020, we began to apply the system to all employees (excluding production staff). We also conduct various activities, including a Challenge 100 activity, to increase our productivity and improve the way we work.
In addition, in consideration of the likely adverse impact of long working hours on employees' physical and mental health, Nippon Shinyaku focuses on appropriately managing the working hours and has an industrial physician give guidance to employees who work a certain number of hours longer than the prescribed working hours.
The Labor-Management Council meets quarterly as an opportunity for members of the Standing Executive Committee and the Central Executive Committee of the labor union to put questions to the management team. As countermeasures against overwork, top management delivers messages about overtime reduction, and departments whose staff often work overtime are required to monitor how they are working and take action to reduce overtime.
Upon salary calculation or the revision of the legal minimum wage, the amount of a salary to be paid to every employee is checked to confirm that it exceeds the legal minimum. After that, the amount is determined and paid.
Related Initiatives Improving Life-Work Balance
At Nippon Shinyaku, we are striving to realize a workplace environment where all employees can work with a sense of ease while fully exploring their individual potential. For the workplace to be such a place for each one of the employees representing diverse traits and situations, it must be compatible with diverse modes of working. To this end, necessary support systems have been put in place and new arrangements introduced as the need be. We are continuing these initiatives, which we hope will also contribute to improving the employees' Life-Work balance.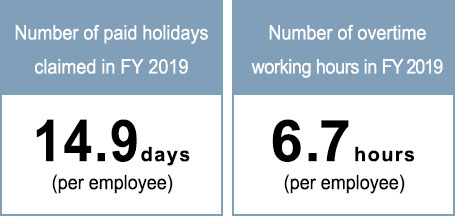 Working Modes
Flextime
In January 2018, Nippon Shinyaku introduced a flextime system for its medical representatives (MRs). This has made it possible for them to work in flexible manners that better accommodate their personal and family lives, enabling them to pick up children at nursery schools without delay, attend children's school events, readjust their work schedule in consideration of their family members' health, and so forth. Many have responded positively to the system, saying that it allows them to spend their time more efficiently than before.
In April 2020, the flextime system was expanded to cover all employees, except those in the manufacturing division. The system has helped increase employee productivity and improve their Life-Work balance.
MR rehiring
Nippon Shinyaku has a system of preferential rehiring of its MRs who leave the company for personal reasons, such as relocation due to marriage and other major life events. MRs who meet certain conditions are registered as candidates for complementary training for the possibility of joining the company and working as MRs again.
In January 2018, the company adopted a telework system that enables employees to work from home, especially to attend meetings with parties in different time zones or early in the morning or late at night. In April 2019, the telework system was revised and extended to employees working on the flextime system. Under certain circumstances wherein commuting is difficult due to reasons such as extreme meteorological conditions, suspended public transportation services, the employee's light illness or injury, child care, or nursing care for a family member, eligible employees can work from home or in rental meeting rooms. With the onset of the COVID-19 pandemic, telework has become applicable to the maximum to prevent the spread of viral infection. In fact, the company has made the decision to continue promoting telework among all employees (except in the manufacturing division) even after the pandemic recedes so as to realize more efficient work performance and higher productivity.