Quality Policy for Pharmaceuticals
Odawara Central Factory will strive to consistently produce quality products in compliance with GMP regulations to positively contribute to individual's everyday health and the creation of affluent lifestyles.
Odawara Central Factory Quality Policy for Pharmaceuticals (April 1, 2022)
Stable Supply
We continue to develop and improve our systems so as to ensure a rapid and stable supply of quality pharmaceutical drugs through advanced supply chain management, covering from production and quality to logistics.
Manufacturing Base in Japan Odawara Central Factory
Vision
Achieving cost and quality competitiveness as a manufacturing site
Constantly upgraded with the latest equipment and systems, the Odawara Central Factory produces highly reliable pharmaceutical drugs that meet international standards, including Nippon Shinyaku's mainstay treatment drugs for blood cancer and pulmonary arterial hypertension.
In 2017, the Odawara Central Factory saw the completion of a highly active solid formulation manufacturing plant, which commenced integrated manufacturing in the following year. With its already advanced technological capabilities further reinforced with the manufacturing of highly active solid formulations, the Odawara Central Factory strives to maximize customer satisfaction. It also promotes initiatives to enhance overall supply chain productivity, including the doubling of API sources.
In logistics, the Odawara Central Factory maintains a reliable supply system considerate of not only quality but also disaster preparedness through various measures, including accurate temperature regulation during storage and transportation and dispersed inventory storage.
Global Supply Chain
To build a foundation for continued growth, it is essential to vigorously pursue global development. Given the ever- challenging environment of the Japanese pharmaceutical market, overseas markets, such as the United States, Europe, and China and other newly emerging economies are becoming increasingly important for Nippon Shinyaku. For the launch of Viltepso in the United States in FY 2020, the Odawara Central Factory played an important role in the company's global development, working closely with NS Pharma, Inc., the Nippon Shinyaku subsidiary in the United States, receiving FDA inspections at related manufacturing sites, building a sales network in the United States, and putting in place systems for handling legal formalities . Global supply and reliability assurance systems were thus established.
FY2020 Overview
Accelerating our efforts to further enhance our global supply system and increase productivity in response to the launch of Viltepso in the U.S.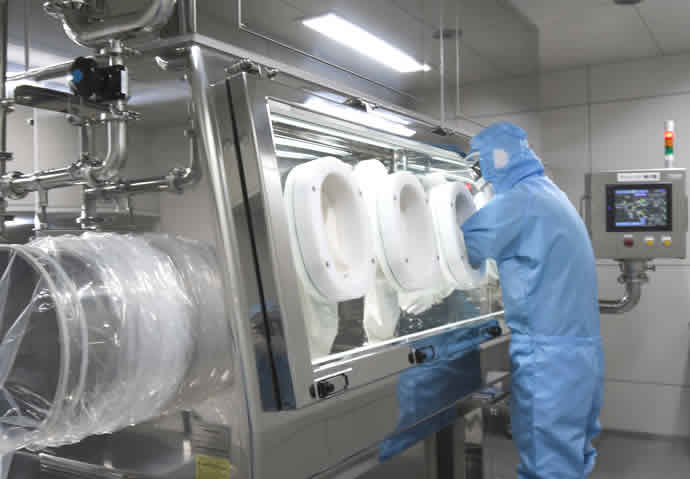 In FY2020, we established global supply and reliability assurance systems in response to the launch of Viltepso for sale in the U.S.
Specifically, we made various preparations, including validating transportation and packaging and establishing the procedures for operations with various subcontractors, quality assurance in the U.S., change management, and pharmacovigilance.
In addition, we strengthened our system for stable product supply by installing refrigerated storage exclusively for the active ingredients of oligonucleotide therapies in the Odawara Central Factory in line with the newly adopted BCP.*3 At the factory, we have also been conducting gap analysis, including mock inspections, in preparation for commencement of global operations. Furthermore, we began detailed discussions about new investments concerning oligonucleotide therapies with a view to acquiring another oligonucleotide therapy after Viltepso.
In terms of distribution, we established a global supply system and adopted various measures to meet the Japanese government's Good Distribution Practice (GDP) Guidelines for Pharmaceuticals, including establishing an appropriate organizational structure, relocating our distribution warehouses, and producing a procedure manual.
Just as in FY2019, we devoted efforts to strengthening our system for stable product supply and further promoting streamlined operations and low-cost management. For these purposes, we defined new standards for risk assessment in our supply chain and cut the cost of procuring ingredients of our focus products.
*3 Business continuity plan
FY2021 Strategies
Devoting efforts to strengthening our global supply system and responding to the diversification of specialties and drug modalities
Against the backdrop of the growing importance of expansion into overseas markets, we are striving to strengthen our global supply system to adapt to European, Chinese, and emerging markets by leveraging as a foothold the supply and reliability assurance systems that we established in preparation for the start of in-house local sales in the U.S.
We are also actively facilitating the use of the Odawara Central Factory to respond to the market shift to specialties and the diversification of drug modalities. Specific measures include utilizing the manufacturing plant for highly active solid formulations in product life cycle management (PLCM) for Uptravi (code no.: NS-304; generic name: selexipag), a pulmonary arterial hypertension (PAH) treatment, discussing new investments concerning oligonucleotide therapies, and responding to overseas inspections in preparation for the launch of relevant products. Moreover, we are striving to streamline our manufacturing process in anticipation of a future decline in the working population by robotizing production facilities at our factory and introducing AI and factory automation technologies.
We will also make sustained cost management efforts, including cutting procurement and distribution costs, to contribute to the generation of profits.