Our Approach to Compliance
At the Nippon Shinyaku Group, we define compliance as the adherence to societal norms, such as laws and regulations, corporate ethics, and in-house rules and regulations established within each of the Nippon Shinyaku Group companies. Adopting the Nippon Shinyaku Group Code of Conduct, our Group-wide ethical standards, and securing, reinforcing, and enhancing compliance in actual operations within the Compliance Framework, we strive to contribute to society and win society's trust through our corporate activities.
Compliance Initiatives
The Compliance Management Department plans and formulates group-wide compliance initiatives based on advice from the Compliance Council. Initiatives are then implemented to spread and raise compliance awareness among all employees.
Major training and awareness-raising initiatives
| Training and awareness-raising initiatives | Description |
| --- | --- |
| The President's message | The President sends messages to request thorough compliance. |
| Compliance training for management team | Training for management team on themes such as "compliance in corporations" |
| Departmental compliance training | Monthly departmental training on company-wide and department-specific themes |
| Communication on compliance | Transmission of compliance-related timely information via the intranet |
| e-learning programs | Provided twice a year to all employees as a means to review their learning from the departmental training and intranet communication |
| Training for new recruits | Training for new recruits, that is, both new graduates joining the company in April and mid-career recruits, on the concept of compliance, the observance of rules, and so forth centering on the Code of Conduct to get the trainees to recognize the importance of compliance |
| Training for newly appointed managers | Training for newly appointed managers on mental preparation, precautions, and other important matters related to compliance |
| Open call for compliance-related slogans, production of posters | Open call made to employees to formulate compliance-related slogans; excellent entries are selected and used on awareness-raising posters to be displayed in workplaces |
| Production of "Compliance Cards" (see samples below) | "Compliance Cards" produced and distributed to all employees |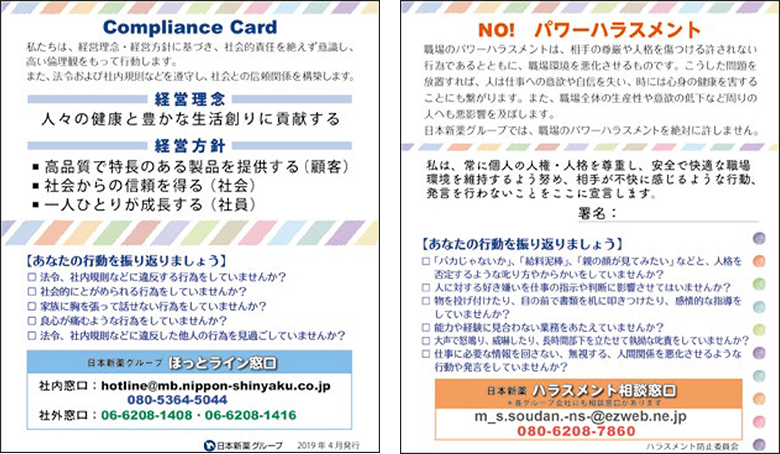 Internal Compliance Reporting (Whistleblowing Hotline)
Nippon Shinyaku maintains an internal compliance reporting system based on a set of regulations as a self-policing means to handle legal or regulatory violations. All Nippon Shinyaku Group company employees can report violations, perceived or real, and seek advice with regard to compliance issues via whistleblowing hotlines set up both within and outside the Group companies that can be reached through a dedicated phone number or e-mail address.
The regulations on internal compliance reporting stipulate necessary measures to be taken for the protection of whistleblowers' privacy and the duty of confidentiality, and they guarantee that whistleblowers will not be subjected to unfair treatment as a result of their reporting.
Information on the internal compliance reporting system is provided to all Group employees from time to time to make it known throughout the Nippon Shinyaku Group.
Risk Management Framework
The Nippon Shinyaku Group has in place "Basic Risk Management Rules," with a dedicated risk management department headed by the Director in charge of CSR and Administration.
The Nippon Shinyaku Group's approach to promoting risk management began with the extraction of all potential risks. We classified them into nine categories: products (including API), investigational new drugs, and production; information management; employment and labor affairs; legal and ethical affairs; disasters and accident; the environment; sales and marketing; business partners and suppliers; and politics, economy, and society. We divided these categories further into intermediate and lower-level sub-categories corresponding to more concretely defined risks. Departments to be responsible for these risks were designated to devise measures to prevent the assigned risks from developing into incidents and respond to incidents in cases of occurrence. The departments put together these measures on risk management sheets to present in-house.
Each year, the Nippon Shinyaku Group as a whole and respective departments identify highly critical risks, drawing up specific annual action plans and reinforcing preventive measures. The results of execution of the action plans are reported at the year-end CSR Committee meeting to be incorporated into the subsequent year's action plans for continuous improvement.
Furthermore, all Group employees take part in a self-check survey each year to verify their individual risk awareness. Important findings based on survey results are covered in employee training programs to further raise their risk awareness.