Nippon Shinyaku Group Human Rights Policy
Introduction
The Nippon Shinyaku Group embraces the Business Philosophy of helping people lead healthier, happier lives and aspires to build a meaningful existence in healthcare in Japan and the world over. To realize this vision, the Nippon Shinyaku Group has established its Human Rights Policy so as to fulfill the corporate responsibility of respecting human rights. The Human Rights Policy complements the Nippon Shinyaku Group Code of Conduct, which has been established as operational standards of action that all Nippon Shinyaku Group directors and employees must adopt in their corporate activities to meet society's expectations and win society's trust.
1. Basic idea
The Nippon Shinyaku Group advocates the Ten Principles of the United Nations Global Compact in four areas as its signatory company and understands that the Universal Declaration of Human Rights and the principles concerning the fundamental rights in the International Labour Organisation (ILO) Declaration on Fundamental Principles and Rights at Work*1 define the minimum level of human rights that must be championed. The Group also conforms with the UN Guiding Principles on Business and Human Rights, respecting the human rights and dignity of all individuals in its business activities.
In addition, the Group adheres to the World Medical Association's Declaration of Helsinki with regard to pharmaceutical research and development, acting with heightened ethical awareness and building a trust-based relationship with society.
2. Policy applicability
This Human Rights Policy applies to all Nippon Shinyaku Group directors and employees. The Group's business partners and other related parties are also required to understand and support the policy.
3. Responsibility to respect human rights
We recognize respecting human rights as one of the important and fundamental requirements for business activities. We will never infringe the human rights of those under the impact of our business activities. If it is likely that our business activities are negatively affecting human rights, we will adopt appropriate improvement measures and fulfill our responsibility to respect human rights.
4. Legal compliance
We comply with the laws and regulations of each country or region where we operate and respect internationally recognized human rights. If we receive any request that could lead to the infringement of human rights, we will seek methods of upholding the principle of internationally recognized human rights.
5. Prohibition of discrimination
We respect the human rights and personalities of all individuals and value diversity among them. We prohibit harassment and discrimination on the basis of race, nationality, ethnicity, gender, age, religion, thought or belief, sexual orientation, gender identification, academic background, physical or mental disability, illness, etc. We will never commit any act that could destroy the dignity of individuals.
6. Human rights due diligence
In conformity with the UN Guiding Principles on Business and Human Rights, we undertake human rights due diligence to prevent and mitigate the possible negative impacts of our business activities on human rights.
7. Relief
If our business activities prove to have a negative impact on human rights, we will implement an appropriate procedure for the relief of the victims and prevent the recurrence of similar cases.
8. Education and training
We continue to educate and train all Nippon Shinyaku Group directors and employees so that they will implement this policy effectively as an integral part of their business activities.
9. Communication and discussions with stakeholders
We have close communication and discussions with relevant stakeholders to confirm and understand the impacts of our business activities on human rights.
10. Disclosure
We constantly disclose information about our human rights initiatives and their results.
*1: ILO's eight fundamental conventions on labor standards
Freedom of Association and Protection of the Right to Organise Convention (No. 87)
Right to Organise and Collective Bargaining Convention (No. 98)
Forced Labour Convention (No. 29)
Abolition of Forced Labour Convention (No. 105)
Minimum Age Convention (No. 138)
Worst Forms of Child Labour Convention (No. 182)
Equal Remuneration Convention (No. 100)
Discrimination (Employment and Occupation) Convention (No. 111)
Related Initiatives
Internal Compliance Reporting (Whistleblowing Hotline)
Initiatives to Prevent Workplace Harassment
The United Nations Global Compact
Endorsing the UN Global Compact
In January 2020, Nippon Shinyaku joined the United Nations Global Compact. We endorse the Ten Principles of the Global Compact in four areas, namely human rights, labor, the environment, and anti-corruption, and pursue various activities accordingly.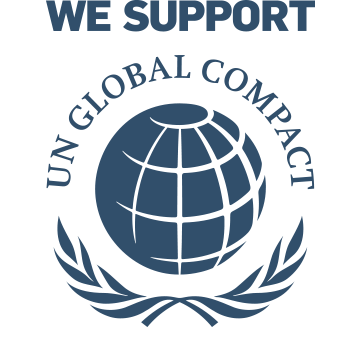 The United Nations Global Compact: What is it?
The United Nations Global Compact (UNGC) is a movement in which businesses and organizations participate voluntarily, pledging to act as good members of society by demonstrating responsible and creative leadership and forming a worldwide framework to realize sustainable growth.
Human rights

Principle 1: Businesses should support and respect the protection of internationally proclaimed human rights; and
Principle 2: make sure that they are not complicit in human right abuses.

Labor

Principle 3: Businesses should uphold the freedom of association and the effective recognition of the right to collective bargaining;
Principle 4: the elimination of all forms of forced and compulsory labour;
Principle 5: the effective abolition of child labour; and
Principle 6: the elimination of discrimination in respect of employment and occupation.

Environment

Principle 7: Businesses should support a precautionary approach to environmental challenges;
Principle 8: undertake initiatives to promote greater environmental responsibility; and
Principle 9: encourage the development and diffusion of environmentally friendly technologies.

Anti-corruption

Principle 10: Businesses should work against corruption in all its forms, including extortion and bribery.