Basic Idea
At Nippon Shinyaku, we believe that human resources are the driving force for sustainable growth. As one of the principles of our Business Philosophy, "Employees: Develop Each Employee", each and every Nippon Shinyaku employee is treasured for his or her personality and given the opportunity to grow as a person and mobilize his or her potential to the fullest. As Nippon Shinyaku is accelerating its overseas expansion, human resource development compatible with global operation is becoming an urgent necessity. Accordingly, in FY 2015, we commenced a system of sending research and development personnel overseas for training. We have also launched a Next-Generation Leaders Challenge Program, designed to provide personnel with opportunities to acquire knowledge and skills not easily accessible through their daily duties.
Education and training system "CASA" (Career Support Academy)
At Nippon Shinyaku, we believe that individual employees can achieve personal development while contributing to the company's growth when they think and act proactively, taking up new challenges. This is the basic idea behind our education and training system called "Career Support Academy", or "CASA" for short, structured in three levels: "Basic", "Skill Up" and "Challenge."
Since "CASA" is the Spanish word for "house", we are hoping that in this system the company will be like a house that fosters and nurtures employees.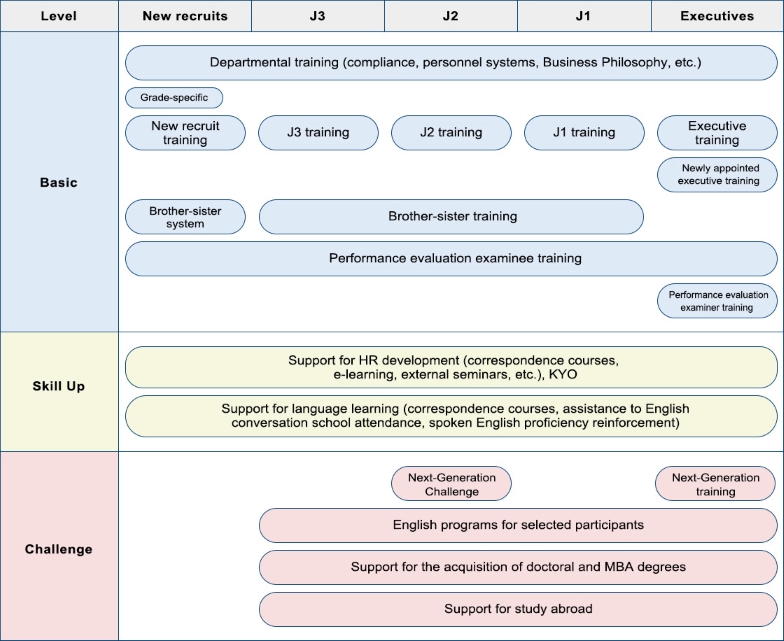 Next-Generation Leader Training
Nippon Shinyaku's in-house education and training were reformed based on the President's policy that the company should actively support individual employees who think positively and constantly strive for personal development. In FY 2007, the company inaugurated a New-Generation Leader Training Program for employees in managerial positions around the age of 40 slated to join the management team in the near future. The program offers a range of opportunities to acquire basic management knowledge and skills through collective training sessions, external educational programs, two-way interactions with top management, and more. In FY 2012, a Next-Generation Leader Challenge Program was launched for employees around the age of 30.