Basic Attitude and Targets
Recognizing the limits of natural resources, we at Nippon Shinyaku are constantly striving to reduce the amounts of resources we use, adopting various methods, including reuse and dual or common use. We are also focusing our effort on the active use of recycled raw materials to ensure that the waste resulting from our activities is recycled or reused. As general indicators for these efforts, we are working to reduce the quantities of waste generation and waste disposal in landfills.
With regard to the use of water, including cooling water at our manufacturing sites, we endeavor to protect and nurture water sources in the environment and regulate the quality of waste water from our facilities in compliance with applicable laws and regulations.
As a long-term target concerning waste plastic, we are aiming to achieve a reuse/recycling rate of 81.1% by FY 2030.
Current Situation and Actual Results
Nippon Shinyaku achieved the FY 2020 targets in terms of the amount of landfilled waste, the amount of waste generation per unit, and the rate of waste reuse and recycling.
To effectively use limited resources, we are actively practicing the 3 Rs with waste materials: Reduce, Reuse, and Recycle.
We commission the transportation, collection, and treatment/disposal of waste materials to carefully selected reliable service providers. We use an electronic manifest system to appropriately manage our service providers and periodically inspect them at their facilities so as to ensure responsible waste management.
In the Head Office area and at the Discovery Research Laboratories in Tsukuba, we use an integrated waste management service (ASP service), which realizes operational efficiency and guarantees legal compliance with regard to the release, treatment and disposal, and recycling of waste materials subject to particularly stringent legal restrictions. We ensure to use this service appropriately, with the contents of permits, consignment contracts, and manifests in concordance with one another.
As for PCB-containing waste, we completed the handling of low-concentration waste, with treatment and disposal executed in compliance with applicable laws. The treatment and disposal of high-concentration PCB-containing waste materials were appropriately completed in the Head Office area and at the Odawara Central Factory in FY 2018.
The total amount of Nippon Shinyaku's water consumption dropped to 161,000 m3 in FY 2020. For the future, we intend to maintain this level, aiming for higher efficiency in water use.
Waste generation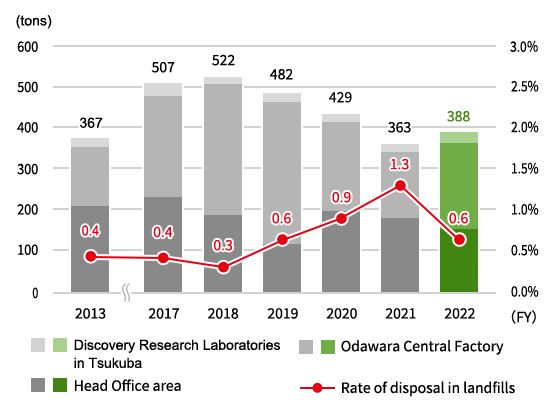 Water consumption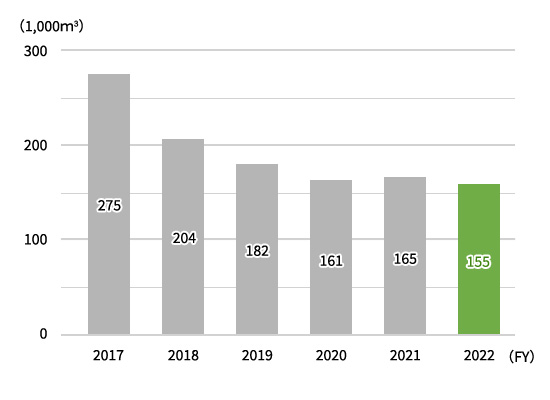 Major Initiatives
Appropriate treatment and utilization of waste materials
We appropriately treat and manage waste materials, recycle metals, and collect and sort out plastic waste, all in compliance with the Waste Disposal and Public Cleansing Act and applicable Kyoto City ordinances.
In the Head Office area and at the Discovery Research Laboratories in Tsukuba, we have adopted an integrated waste management service (ASP service) capable of appropriate and continuous support to waste management. This enables us to confirm responsible waste treatment and disposal by our service providers. Furthermore, in the Head Office area, we disclose information regarding waste materials from time to time on the in-house intranet based on the KES Environmental Management System Standard.
Reduced use of PTP film
By reducing the size of PTP sheets as packaging materials for our pharmaceutical products, we are trying to reduce the amount of waste, that is, burden on the environment, while ensuring that new packaging will not compromise product quality.
Reduced use of office paper
As part of our drive to realize paperless offices, we regulate the use of office paper, eliminating unnecessary and wasteful copying and printing. As a result, we have been reducing the volume of office paper purchase year after year. At the same time, we have been continuing the purchase of "green" office paper commensurate with our green purchase policy.
Plastics Smart Campaign - a 1.2-ton reduction of PET bottle use
Endorsing its objective of reducing marine plastic litter, Nippon Shinyaku has joined the Plastics Smart campaign launched by the Ministry of the Environment of Japan. In the Blue Smile Project, the plastic waste reduction initiative that Nippon Shinyaku has registered within a Kyoto City-initiated campaign, all employees are provided with their own multiple-use bottles and encouraged to use them in the workplace, while on assignment away from the workplace, and even in their free time. Moreover, the suspension of the sale of drinks in PET bottles from vending machines in the Head Office area resulted in a drop of waste PET bottles from 1.2 tons in FY 2019 to zero. This achievement drew great attention and praise from society, and Nippon Shinyaku was featured on the Kyoto City-operated website "Kogomi Net," dedicated to waste reduction and recycling information, as a company proactively engaged in plastic waste reduction.

Please refer to the following web pages for further details (Japanese only).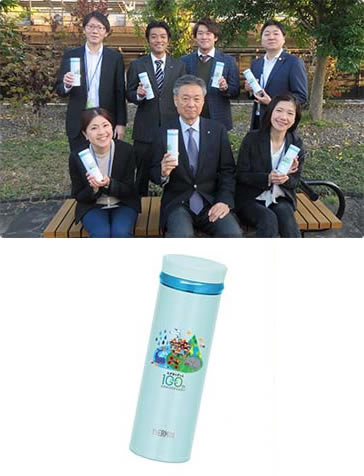 Appreciation by External Parties
Recognized specially excellent business operator in Kyoto City's certification system for 2R and waste sorting and recycling
To further reduce waste, Kyoto City inaugurated in FY 2018 a system to certify business operators that conduct remarkably creative, proactive or otherwise outstanding 2R (Reduce and Reuse) practices and waste sorting/recycling activities. In FY 2020, Nippon Shinyaku was certified in this system as a specially excellent business operator for 2R, mainly in recognition of the company's support for the Plastics Smart Campaign and the registration of the Blue Smile Project.