The Nippon Shinyaku Group has designated 19 items as its issues of materiality in pursuing sustainability. To determine these issues, we identified the missions that Nippon Shinyaku should fulfill for our communities and stakeholders in each of the fields of value creation, the environment, society, and governance, and we took into consideration the risks and opportunities that may arise in association with changes in society.
Processes to determine issues of materiality
To determine the Nippon Shinyaku Group's issues of materiality, we employed the approach of identifying the issues from a medium- to long-term viewpoint and followed the steps below. These processes will be updated as necessary according to changes in society, as well as changes in our stakeholders' expectations of Nippon Shinyaku.
Listing issues
Issues of Nippon Shinyaku were listed based on two perspectives as follows:
Issues that are derived by reference to international guidelines and standards, such as ISO 26000, GRI Standards, and SDGs
Issues associated with "risks and opportunities" in promoting businesses, which are derived by analysis of social situations, the market environment, and our internal condition
Assessing importance of issues
The listed issues were assessed from two perspectives: stakeholders' perspective (the degree of impact on/priority for activities of each stakeholder) and Nippon Shinyaku's perspective (the degree of impact on/priority related to business strategies, etc.). The results were mapped on a graph to define the issues of materiality.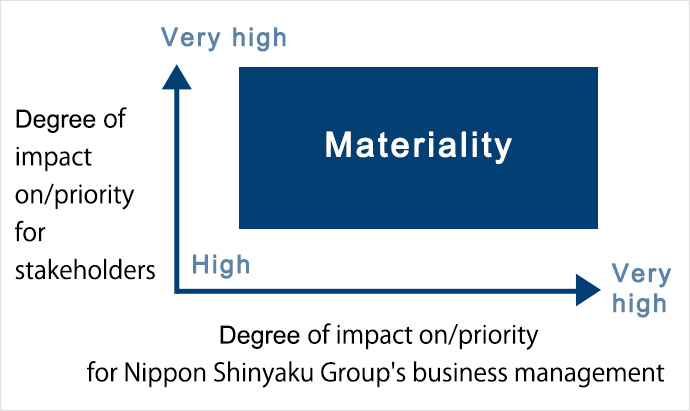 Formulating plans and obtaining approval
For each of the defined materiality issues, under the initiative of the relevant department in charge of promotion, quantitative and qualitative goals were set, and promotion plans to achieve the goals were formulated.
The goals and plans formulated were reviewed by the CSR Committee and then approved by the Board of Directors. For the goals and plans, the Committee periodically checks their progress in implementation to improve the activities as necessary.
Nippon Shinyaku's Issues of Materiality
Goals
Activities
Related SDGs
Value creation
Health and life

01Create innovations to realize a healthy future

Creation of therapeutic agents for intractable and rare diseases for which effective treatment methods have not been established

・Taking on the challenge of new drug discovery modalities, including gene therapy based on nucleic acid drug discovery technology

Creation of products that contribute to realizing health through food

・Regularly launching highly unique healthcare products, materials and milk protein materials into the market to contribute to disease prevention

Enhancement of in-house resources to provide a healthy future

・Strengthening organizational capacity to respond to changes
・Strengthening efforts for human resource development in each department

Contribution to medical development in the area of intractable and rare diseases

・Providing information for medical professionals and familiarizing patients and their families with diseases

Contribution to reducing food loss

・Contributing to waste reduction by extending the expiration dates by developing a quality stabilizer/preservative that will not impair the taste of food

02Contribute to the health of people around the world through distinctive products

Provision of required therapeutic agents for the world

・Expanding businesses in Japan and overseas
・Building a global sales system to support business expansion

Contribution to the health of people around the world through food

・Providing highly unique healthcare products and materials for EC malls in Asian countries

Contribution to the science field through research on and development of nucleic acid drugs, etc.

・Contributing to the development of related science fields by presenting scientific knowledge through academic papers or academic societies

03Contribute to the healthcare field beyond provision of pharmaceuticals

Support for individuals' health creation that goes beyond treatment

・Promoting treatment and medication guidance by digital health
・Raising awareness of new diseases by the Web
・Promoting development and sales of anti-aging care products for the purpose of disease prevention

Enhancement of patient support and advocacy activities

・Promoting social understanding of diseases through provision of accurate information on diseases and treatments

Expanded support for medical and scientific research that contributes to the development of medicine

・Further enhancing open recruitment research grant systems

Reliability assurance, stable supply

04Maintain a supply of safe and high-quality products

Enhanced reliability assurance system

・Strengthening a system that can maintain and manage the supply of safe and high-quality products, including new drugs such as nucleic acid drugs

Enhancement of stable supply system with the development of information network throughout the supply chain

・Visualizing risks for each item to implement preventive measures
・Enhancing supplier management to ensure stable procurement and supply

05Ensure proper use of products

Provision of accurate information for proper use of products

・Collecting safety information and further promoting integrity in the sales department

Response to counterfeit medicines

・Operating the Anti-Counterfeit Committee to promote information sharing and implement countermeasures

Enhancement of capacity to respond to inquiries from medical institutions

・Improving business efficiency and customer satisfaction by promoting digital communication

Environment
Climate change

06Tackle climate change

2022 target: 6% reduction in greenhouse gas emissions compared to FY2013
2030 target: 25% reduction in greenhouse gas emissions compared to FY2013

・Implementing measures to reduce greenhouse gas emissions

Recycling-oriented society

07Promote resource recycling

2022 target: 65% of waste plastic recycled

・Implementing measures to promote waste plastic recycling

2022 target: Recycling rate 55% or higher
70% reduction in final disposal amount compared to FY2005 results

・Promoting resource saving, waste reduction and 3Rs

Chemical substances

08Ensure proper management of chemical substances

Promotion of proper management of chemical substances

・Promoting proper management of chemical substances, including PRTR Law-designated chemicals
・Continuously reducing emissions to the natural environment

Biodiversity

09Conserve biodiversity

Promotion of social contribution activities related to conservation of biodiversity

・Continuing activities to protect and grow endangered species at the Yamashina Botanical Research Institute

Society
Job satisfaction

10Improve employee health and ensure workplace safety

Raised employee awareness of health and productivity management

・Enhancing vitality and productivity by maintaining or improving the health of employees

Promotion of health and productivity management based on health data analysis
2022 target: Smokers' rate 0%, gynecological consultation rate 70%
2023 target: Rate of employees in BMI normal weight range 75%

・Making effective use of health data to understand the health status of employees (improvement or worsening)

Implementation of measures to reduce risk of industrial accidents

・Further strengthening activities to ensure workplace safety, such as enhancing the industrial accident risk prediction capacity and implementing zero accident campaigns

Promotion of health and productivity management based on health investment administration accounting

・Establishing a PDCA cycle of "strategy setting," "implementation," "evaluation," and "improvement" for health and productivity management

11Realize work-life balance / Establish an organization where each member can grow and play an active role

Improved employee engagement

・Supporting diverse work styles tailored to individual employees
・Reviewing wages, bonuses, evaluations, etc. to improve job satisfaction

Promotion of human resource development efforts to foster an organizational culture in which each individual can play an active role

・Developing self-independent human resources and global human resources who are motivated to grow

Development of a personnel system to promote Nippon Shinyaku's new working style

・Promoting various work styles, such as flextime and teleworking, and reviewing operations using ICT

Optimization of work hours by instilling Nippon Shinyaku's new working style

・Promoting various work styles, such as flextime and teleworking, and reducing business hours using ICT

Promotion and instillation of Nippon Shinyaku's new working style

・Revising personnel systems and operation thereof to realize a company that is friendly to and satisfying for workers

12Promote diversity & inclusion

Jobs created, secured and maintained (jobs created by local employment at overseas subsidiaries)

・Promoting recruitment activities in view of diversity and inclusion

Promotion of understanding of diversity with the aim of raising awareness of employees

・Fostering an organizational culture where "individuals" are respected and their strengths and weaknesses can be frankly pointed out or accepted

Greater female participation promoted

・Developing a workplace environment where every member can have opportunities to play an active role regardless of gender, and establishing the necessary organizational structure

Employment of people with disabilities promoted

・Promoting development of job areas available for people with disabilities

Creation of an environment that is friendly to all workers and establishment of an organizational structure therefor

・Developing a work environment where employees can work with peace of mind without worry about personal circumstances, such as childcare leave, nursing care, or illness

Local communities

13Contribute to local regions and culture

Social contribution activities rooted in each region, including the preservation and maintenance of Kyoto culture

・Continuously carrying out activities to preserve and maintain Kyoto culture
・Implementing contribution activities for each region

14Contribute to the future of children

Educational support for children, who will bear the future

・Promoting educational support through sports and picture books

Support for facilities with pediatric patients

・Supporting children's mental health through offering picture books, etc.

Governance
Governance

15Build a risk-resistant organizational structure

Enhancement of the risk management system

・Examining measures appropriate for current risks each year to improve the system
・Enhancing privacy protection and information security for customers and employees

Establishment of business continuity system, examination of the method for emergency supply chain maintenance

・Enhancing the system for stable product supply by promoting risk management of plants and suppliers

16Ensure compliance and strengthen governance

Enhancement of governance functions

・Enhancing governance throughout the Company, including subsidiaries

Compliance and prevention of corruption ensured

・Fostering compliance awareness and preventing corruption

17Promote integrity

Promotion of integrity

・Maintaining fair transactions
・Fostering high ethical standards

18Promote use of AI and IT

Active utilization of AI and promotion of IT to improve business efficiency

・Promoting AI/IT themes throughout the Company
・Improving company-wide IT literacy, developing IT human resources

19Ensure appropriate information disclosure and establish communication with stakeholders

Enhanced engagement with investors

・Enhancing IR activities for investors

Trust gained from stakeholders

・Disclosing information to shareholders/investors, employees, business partners, customers (healthcare professionals/patients and their families), and local communities