Appropriate Management of Chemical Substances
Basic Attitude
For a pharmaceutical company that handles a variety of chemical substances, their appropriate management is a vital social responsibility. At Nippon Shinyaku, we ensure to responsibly manage all chemicals, and a dedicated committee, established in compliance with the company's Basic Regulations on the Management of Chemical Substances, clarifies the company's policy in this regard so that chemicals are managed correctly by all departments. Thanks to our IT system that enables a comprehensive and exhaustive inspection of the status of legal and regulatory compliance concerning chemical substances, we maintain a responsible management mechanism concerning all chemicals handled in-house in conformity with the latest applicable laws and regulations. Furthermore, we regularly assess workplace risks, including those related to chemical substances, from the perspective of occupational health and safety to realize the highest level of workplace safety.
PRTR Method-based Management
In the Pollutant Release and Transfer Register (PRTR) method defined under the Act on Specific Chemical Substances(*), business operators that handle one ton or more of any designated Type 1 chemical substances per year are required to notify these chemicals and details of their treatment. The corresponding chemicals we handle are acetonitrile, N-hexane, and dichloromethane in the Head Office area and dichloromethane at the Discovery Research Laboratories in Tsukuba. We file all required reports and notices, demonstrating our appropriate management of all designated chemicals.
The manufacturing plant for highly active solid formulations, completed in July 2017 at the Odawara Central Factory, is equipped with the latest triple containment structure. In this structure, highly active chemicals are contained first by equipment, second by air current and chamber pressure, and third by building, thereby preventing leakage into the external environment and taking maximum care for safety, quality, and environmental protection.
(* The unabridged title of the law is the Act on Confirmation, etc., of Release Amounts of Specific Chemical Substances in the Environment and Promotion of Improvements to the Management Thereof.)
PRTR-designated Type 1 chemicals (quantities handled)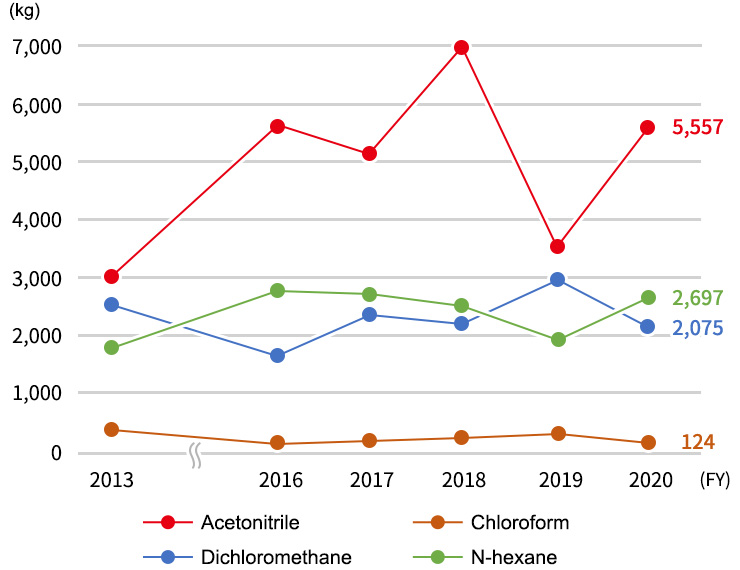 Communication on the Environment
Participation in community-based initiatives for the environment
We take part or cooperate in various community-based initiatives for the environment. Moreover, we make donations to environment-related causes and dispatch speakers and lecturers to schools.
Voluntary cleanup programs
We organize cleanup programs mainly in the Head Office area, at the Odawara Central Factory, and at the Discovery Research Laboratories in Tsukuba to help make the local communities cleaner and more beautiful.
Dispatch of lecturers to schools
Since 2008, Nippon Shinyaku has sent lecturers to a total of 30 schools, in collaboration with the Kyoto Chamber of Commerce and Industry.
In FY 2020, this project was suspended due to the COVID-19 pandemic.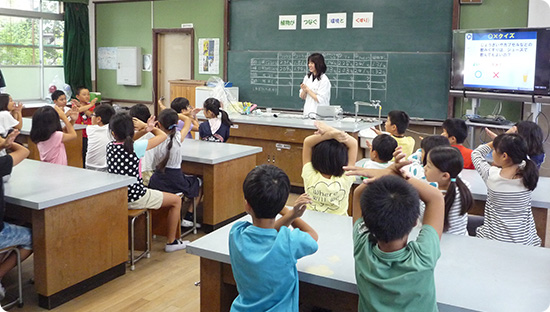 Yamashina Botanical Research Institute
In FY 2019, the Institute welcomed over 1,600 visitors, including participants in general-public tours and training seminars for pharmacists.