Our Views and Basic Policies
Basic approach
Nippon Shinyaku follows the principle of pursuing sustainable development along with society and will fulfill its corporate social responsibility (CSR) under the business philosophy "Helping people lead healthier, happier lives." We work to grow sustainably by developing innovative new drugs and functional food products that can provide new value while paying attention and contributing to the sustainability of our society on a long-term basis. This is what we believe as the Nippon Shinyaku Group's approach to sustainability.
CSR policy
Nippon Shinyaku's goal is to become a "company with a meaningful existence in healthcare." In aspiring to that goal, the Group's corporate social responsibility (CSR) is summarized in the slogan of" Helping people lead healthier, happier lives." In terms of management policy, it means seeking to prosper with society by supplying unique and high-quality products; to earn the trust of society; and to develop each employee. Our fundamental CSR policy is to conduct our business activities in line with this thinking on a continuous basis, thereby making a broad-based contribution to society.
Action policies for individual stakeholders
The Nippon Shinyaku Group believes that responding to expectations from various stakeholders of its business activities is crucial for the Group to fulfill what it deems as its corporate social responsibility. To demonstrate this belief in a specific form, we have formulated action policies related to "society" and "the environment," themes that may be relevant to all stakeholders, in addition to "patients," "business partners," "users," "shareholders and investors," and "employees.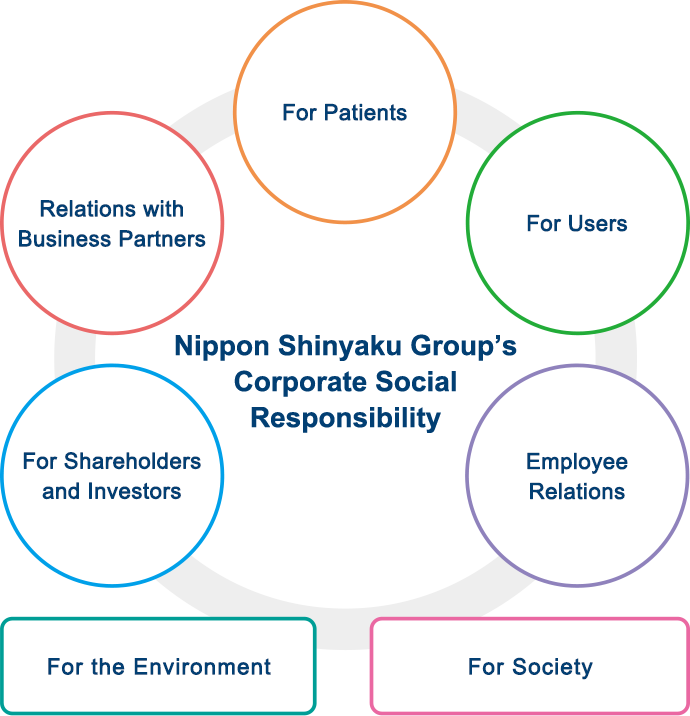 CSR Promotion System
The Nippon Shinyaku Group has a CSR committee in place to confirm that its corporate activities meet society's norms and expectations and to orient its various activities so as to expand and enrich the Group's overall CSR initiatives in line with its CSR policy.
Responsible Procurement
Basic Rationale
Recently it has been widely recognized that companies have much greater responsibilities than simply providing products to consumers. Corporate social responsibility requires that a company protect human rights, comply fully with laws and regulations, and protect the environment throughout the supply chain.
Maintaining public trust is a major tenet of Nippon Shinyaku's management policies. We have formulated the Responsible Procurement Guidelines to promote this, based on the five areas of legal compliance, confidentiality, equitable business practices, rational selection of suppliers, and environmental consideration. Based on this thinking, we are dedicated to implementing responsible procurement policies across all these areas in partnership with our suppliers to ensure that we maintain public trust.
Responsible Procurement Guidelines
1. Stringent legal compliance
Nippon Shinyaku complies with all relevant legislation (Antimonopoly Act, Subcontract Act, Unfair Competition Prevention Act, etc.) and industry and internal rules, also refraining from making unreasonable demands or taking unfair advantage.
2. Confidentiality
We take thoroughgoing measures to prevent leaks of confidential information concerning business partners, also eschewing fraudulent transactions.
3. Equitable business practices
In our dealings with all business partners, Nippon Shinyaku offers transparent, fair, and equitable transactions based on free competition principles.
4. Rational selection of suppliers
Nippon Shinyaku chooses its suppliers by taking comprehensive account of factors including management stability, the quality and prices that they offer, their development prowess, their social credibility, and their concern for the environment.
5. Consideration for the environment
We comply with laws and regulations pertaining to the environment and undertake environmentally friendly procurement in adherence to our Basic Environmental Policy.
Major initiatives
1. Conducting a questionnaire survey for socially responsible procurement
As part of our CSR initiatives and to build and strengthen mutually beneficial relationships founded on trust with our suppliers, we conduct a questionnaire survey among them, with their accord and cooperation, to gauge the status of their CSR initiatives. We use such survey results as selection bases and reference information.
At Nippon Shinyaku, we have established criteria by which suppliers' CSR initiatives are evaluated, mainly those concerning compliance, integrity in corporate activities, service to society, information management, respect of human rights, and environmental protection and consideration. In addition to questionnaire surveys, we also solicit our suppliers' cooperation in arranging factory visits and inspections and interviews with personnel, as the need arises.
2. Green purchasing
We adhere to the policy of consciously searching for and purchasing environmentally responsible products and services. We have set up our own in-house purchasing system that promotes "green" purchasing with concrete measures. For example, catalogues for office equipment and supplies preferentially show environmentally considerate products, and this approach is also effective in raising the employees' awareness. We have also been continuing the purchase of paper products conforming to the Act on Promoting Green Purchasing.
3. Global purchasing
To ensure a stable supply of ingredients and other materials necessary for our pharmaceutical manufacturing, we maintain a wide network of suppliers in and outside Japan, purchasing from several companies as deemed necessary.
With our overseas suppliers, we try to strengthen our ties through regular communication on and mutual engagement in each other's CSR initiatives.
Regarding the construction of a global supply chain, more information is available here.
Compliance with applicable laws and regulations
To ensure compliance with applicable laws and regulations related to procurement, such as the Subcontract Act and the Customs Act, as well as with social norms, we are making constant effort to educate and share information with personnel. We maintain our procurement practices based on fair and free competition, appropriately responding to investigations and on-site inspections by the authorities.
To our suppliers
As part of its CSR initiatives and to build and strengthen mutually beneficial relationships founded on trust with suppliers, Nippon Shinyaku requests suppliers' cooperation in conducting a questionnaire survey about the status of their CSR initiatives.
The results of such surveys are used as selection bases and reference information.
Nippon Shinyaku also requests its suppliers to conduct surveys about CSR activities in some cases.