Policy
To ensure the health and safety of its employees and maintain a comfortable workplace environment, Nippon Shinyaku takes measures to prevent occupational accidents and improve the workplace environment in terms of health and safety. The company also reinforces the management systems and organizes company-wide health and safety committees at respective work sites. The proceedings of these committees' meetings are disclosed on a company-wide basis. Health and safety activities differ from one site to the other depending on concerned operational types. Nevertheless, the basic activities are common, as is the perspective of health management from which challenges are tackled to ensure the physical and mental health and safety of all employees and create a workplace environment that makes work worthwhile for all.
Occupational Accidents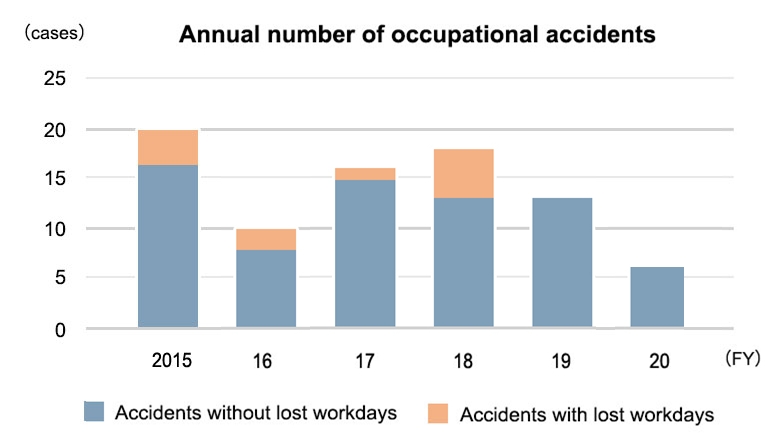 Mental Health
At Nippon Shinyaku, we believe it is essential to devise measures to effectively handle employees' mental health issues, which can be triggered by stress in many cases. Accordingly, we have been conducting a stress level inspection covering all employees each year since 2003. In the beginning, the stress check was mainly intended to detect early signs of mental ill health and enable employees to make an early response as part of their self-care. Since 2006, it has expanded to include workplace unit-based care training programs based on organizational analysis of stress check results, with a particular focus on sites other than the Head Office. As a result, the level of responsiveness to mental health issues has improved among executives, leading to the construction of a mechanism enabling them to make early responses to personnel in poor condition.
For the future, we are considering the introduction of new forms of support for employees to be more compatible with the new ways they work amid the COVID-19 pandemic.
Main initiatives
Workplace improvement based on analysis of stress check results
Follow-up on employees on sick leave
Training program for work resumption