Occupational Safety and Health Policy
The Nippon Shinyaku Group has adopted the policy of ensuring the safety and health of all those working in the Group (including employees of contractors and other people involved) and creating a comfortable workplace environment. To carry out the policy, the Group implements measures to prevent occupational accidents and to ensure a healthy and safe workplace environment, including strengthening the safety and health management system and holding meetings of Safety and Health Committees throughout the Group.
In addition to promoting basic safety and health activities, such as sharing the minutes of meetings of its Safety and Health Committee with each other, every Nippon Shinyaku Group business site tackles safety and health issues from the perspective of "health management," although specific activities differ according to the job type. We therefore aim to protect the physical and mental health and safety of all workers at our business sites and create a workplace environment where they can find their work rewarding.
The Safety and Health Committee of each business site assesses safety and health risks therein every year. For example, our laboratories handle various chemical substances. To prevent occupational accidents with chemicals that are proven hazardous or toxic at a certain level, we conduct risk assessments as needed in compliance with the Industrial Safety and Health Act.
Targets
1. Achieving zero fatal occupational accidents and zero occupational accidents that cause workers to be absent from work for four or more days
2. Decreasing the occupational accident frequency rate year on year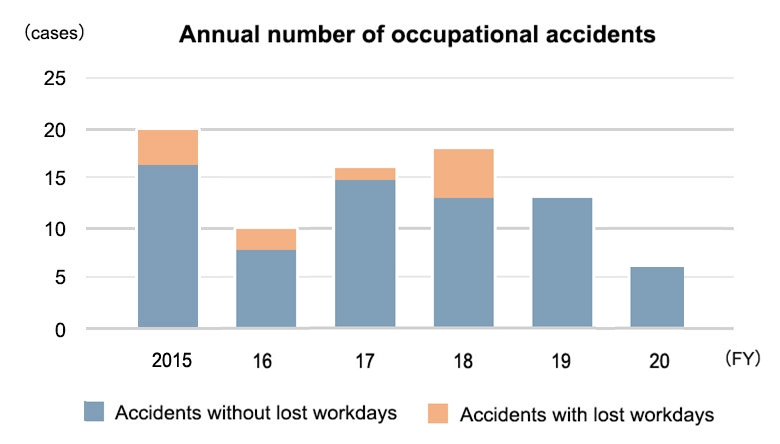 Occupational accident frequency rate
FY2018
FY2019
FY2020
Nippon Shinyaku
1.87
0.00
0.00
All-industry average in Japan
(Difference from the all-industry average)
1.83
(+0.04)
1.80
(-1.80)
1.95
(-1.95)
Average in the Japanese chemical industry
(Difference from the average in the Japanese chemical industry)
0.90
(+0.97)
0.94
(-0.94)
0.93
(0.93)
* Occupational accident frequency rate = Number of fatalities and injuries from occupational accidents / Total number of actual working hours × 1,000,000
Organizational Structure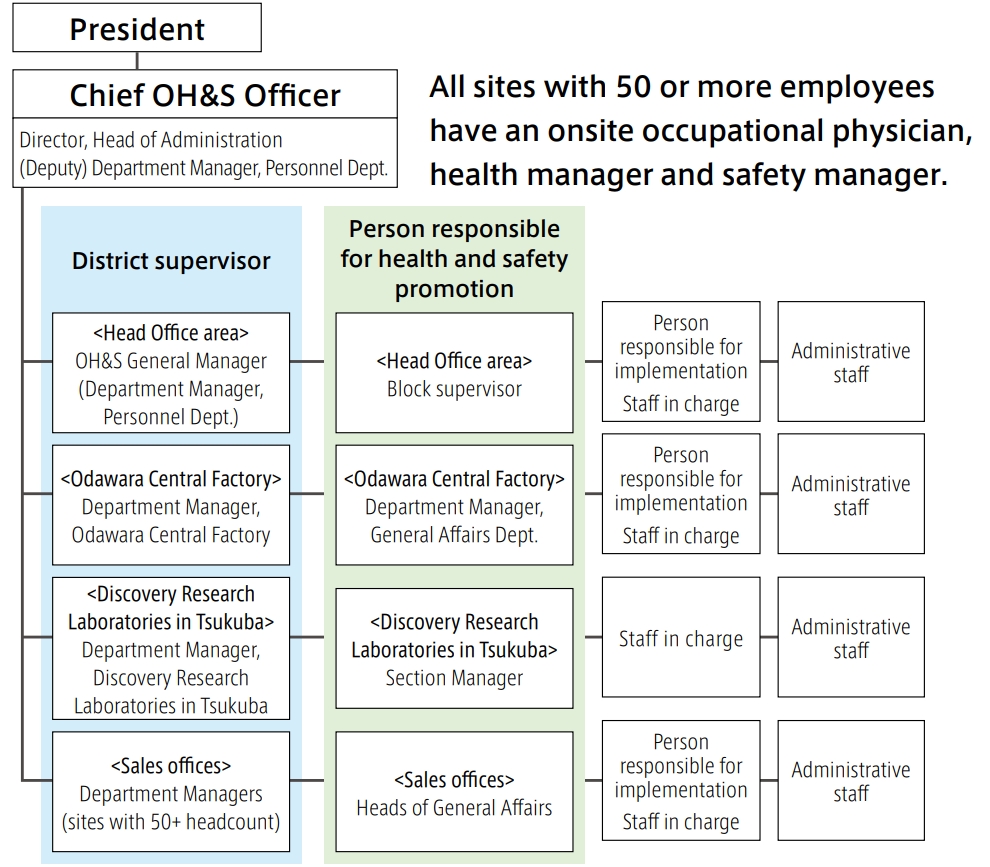 Related Initiatives
Mental Health
At Nippon Shinyaku, we believe it is essential to devise measures to effectively handle employees' mental health issues, which can be triggered by stress in many cases. Accordingly, we have been conducting a stress level inspection covering all employees each year since 2003. In the beginning, the stress check was mainly intended to detect early signs of mental ill health and enable employees to make an early response as part of their self-care. Since 2006, it has expanded to include workplace unit-based care training programs based on organizational analysis of stress check results, with a particular focus on sites other than the Head Office. As a result, the level of responsiveness to mental health issues has improved among executives, leading to the construction of a mechanism enabling them to make early responses to personnel in poor condition.
For the future, we are considering the introduction of new forms of support for employees to be more compatible with the new ways they work amid the COVID-19 pandemic.
Main initiatives
Workplace improvement based on analysis of stress check results
Follow-up on employees on sick leave
Training program for work resumption
Percentage of employees who underwent a stress check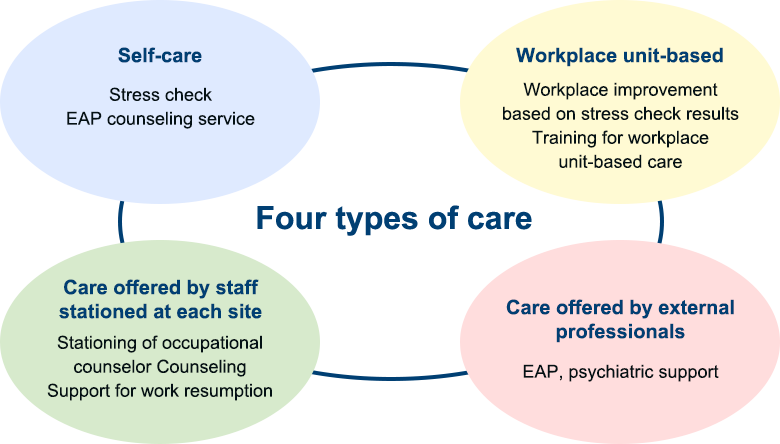 Training
The Nippon Shinyaku Group provides employees with safety and health training.
| Training program | Intended participants | Frequency | Number of participants |
| --- | --- | --- | --- |
| Compliance training | All employees | Once a year | About 2,400 |
| Mental Health training | Manager | Once a year | About 400 |
Anti-harassment measures
We offered training to all Nippon Shinyaku Group employees, including managers and temporary employees, to help them confirm the content of the Group's basic anti-harassment policy and acquire correct knowledge of harassment with the aim of creating a harassment-free workplace environment. Training provided to managers was designed to enable them to not only gain correct knowledge of harassment but also create a psychologically safe workplace environment where employees can consult with each other easily. In addition, to strengthen our harassment consultation system, we provided harassment consultation desk staff in the Group companies with training designed especially for them.