Well-being Declaration
In October 2021, Nippon Shinyaku issued its Well-being Declaration, which gives an overall picture of the company's health management.
In 2018, the company formulated the Nippon Shinyaku Health Declaration to express its commitment to promoting health management through active involvement in maintaining and enhancing the health of its employees and their family members and serious efforts to improve the workplace environment and working conditions.
In 2020, the COVID-19 pandemic brought drastic changes to the way we work. In response to that new situation, we issued the updated Health Declaration 2020. In addition, Chairman Maekawa (then president) shared with employees his thoughts embodied by the Health Declaration and his way of keeping healthy to raise employees' awareness of health maintenance.
Promoting health management requires increasing the health literacy of every employee.
A change in their awareness will lead to a change in their behavior. With the belief that such changes will have a massive favorable impact on their family members and coworkers, we will work toward our health management goal: the well-being of all employees.
Well-being Declaration 2021
― Co-creation of Well-being ―
To date, Nippon Shinyaku has been actively committed to maintaining and enhancing the health of its employees and their family members with the aim of advancing its health management. In Health Declaration 2020, Chairman Maekawa declared that the "well-being" of all employees is "the very goal of the company's health management" and that the company aims to become "a company that goes beyond being an easy place to work, creating a healthy workplace that makes work more worthwhile and adds purposefulness in life."
Do you find happiness in your days working at Nippon Shinyaku?
It is you who should play a leading role in ensuring your own well-being.
The company is your partner who co-creates your well-being with you.
Let's co-create well-being together to become a company where everyone can demonstrate their talents fully and work cheerfully.
Only a company where everyone can work cheerfully can build "a healthier future," which Nippon Shinyaku aims for.
We hereby declare that we will work toward the co-creation of the well-being of employees and their family members.
October 1, 2021
Toru Nakai
President
Nippon Shinyaku Co., Ltd.
Following Nippon Shinyaku's fundamental idea that "employees and their families who support them should enjoy good physical and mental health, creating a workplace that overflows with smiles and vitality," we strive to realize a healthy and comfortable workplace environment as a step to realizing our Business Philosophy and Management Policy.
Targets
KPI
For its health management, Nippon Shinyaku has adopted the percentage of employees with body mass index (BMI: at or above 18.5 and below 25) and the percentage of smoker employees as key performance indicators (KPI).
This resonates with the Health Declaration 2020, President Maekawa's ideas about the health of employees and their families, discussed in the interview mentioned above, and the company's firm determination to reduce the risks of lifestyle-related diseases among employees.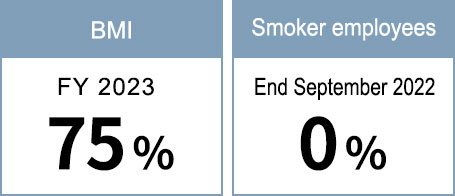 Organizational Chart
Nippon Shinyaku pursues its health management by planning and implementing related measures based on deliberations among those in responsible positions, including top management, and coordination among the health insurance union, the labor union, and the Health Promotion Office. For these measures to be embraced and practiced throughout the company and for actual workplace situations and employees' wishes to be incorporated into the measures, persons in charge of health enhancement are designated throughout the company to form an organization dedicated to well-being, separately from occupational health and safety.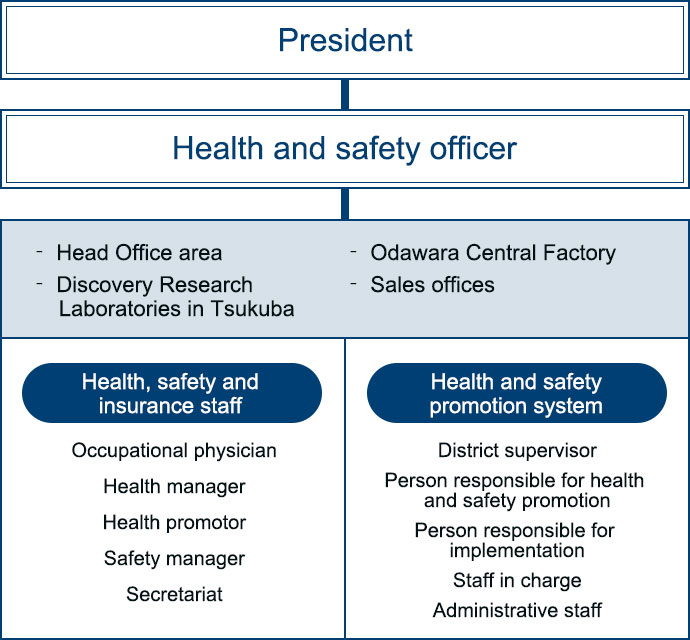 Health Management Strategy Map
Promotion of Health Management
Nippon Shinyaku uses the results of medical checkups and individual and group stress checks to detect employees' health problems. The company not only strives to prevent serious illness in employees with elevated health risks but also focuses on primary and secondary prevention, as well as implementing various measures to provide employees with opportunities to heighten their health awareness.
Medical Checkup Results
A detailed analysis of the results of periodical medical checkups from FY2017 to FY2019 revealed an increase during the three-year period in the number of employees whose obesity level, blood pressure, blood sugar level, etc. indicated their risk of suffering from lifestyle-related diseases. We must not only help employees improve their lifestyles but also ensure that all employees whose medical checkup results include abnormalities will be reexamined, and alleviate and prevent their health problems, which may lead to presenteeism and absenteeism.
Lifestyle changes caused by the COVID-19 pandemic have had a major impact on Nippon Shinyaku employees. A 2020 analysis revealed improvements in the values of the abovementioned disease risk indicators despite the reduced time spent on habitual exercise. We recognize that changes in employees' working styles have increased their interest in information about health management. We are implementing health management measures while hoping that changes in employees' awareness will lead to changes in their behavior.
1.Improving employees' health literacy
No health management measure is likely to change the behavior of employees unless they get involved personally in the measure. Therefore, we are committed to improving employees' health literacy by offering them various seminars and information to encourage them to get into the habit of improving their own lifestyles.
 
Measure
Description
FY2019
FY2020
FY2021
Exercise-related measures
Walking event "Hokatsu"
Participants form teams using a smartphone app and compete in the number of steps walked
〇
〇
〇
"RIZAP" Health Seminar
Seminar introducing readily applicable daily tips related to diet, exercise, and the routinization of healthy habits and gestures to raise participants' health consciousness and motivate them to improve their lifestyles
〇
〇
 
Health Challenge Campaign


Initiatives in the Health Challenge Campaign

The Health Challenge Campaign (organized by Tokio Marine & Nichido Medical Service) is intended for employees to improve their lifestyles and enhance their health.
〇
〇
From December 1st
GPS art walking event
Walking event using a GPS app, held in collaboration with the local community
 
 
〇
Dietary measures
Introduction of smart meals into the company cafeteria
We introduced "smart meals" at our Head Office canteen to provide more nutritionally well-balanced menu choices foremployees interested in adjusting daily dietary habits to their physical condition.
〇
〇
〇
Anti-aging care (glycation control) seminar
Seminar about the effects of the glycation of sugar and protein in the body and concrete countermeasures
 
〇
 
AGE measurement at the Head Office
Measurement of advanced glycation end-products (AGEs)
〇
〇
〇
Others
Questionnaire survey on health issues
Survey on the status of presentism
〇
〇
〇
Seminar on gynecological checkups
Lecture by a speaker with a related personal experience on the importance of gynecological checkups and reconciliation of her work life with health maintenance
 
〇
〇
The numbers of participants and teams in the walking event "Minna-de-Hokatsu"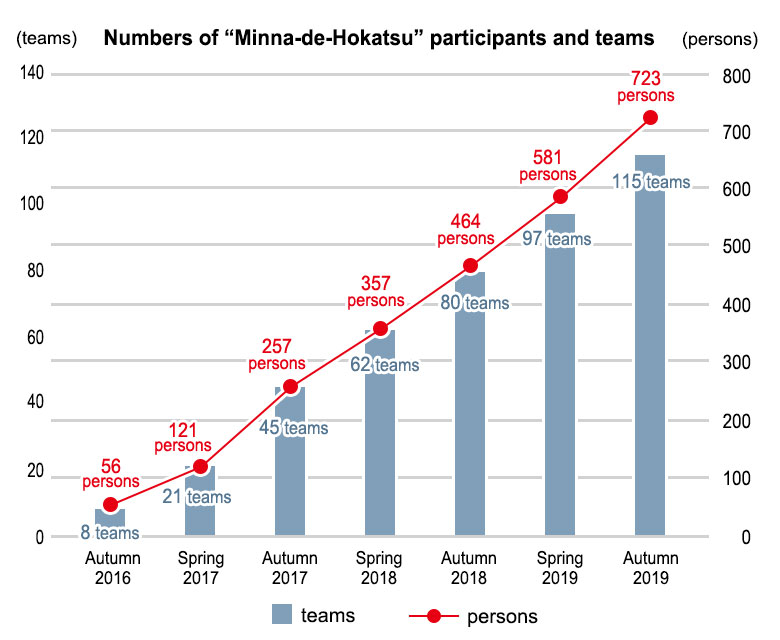 * The 2020 spring event was canceled due to the COVID-19 pandemic.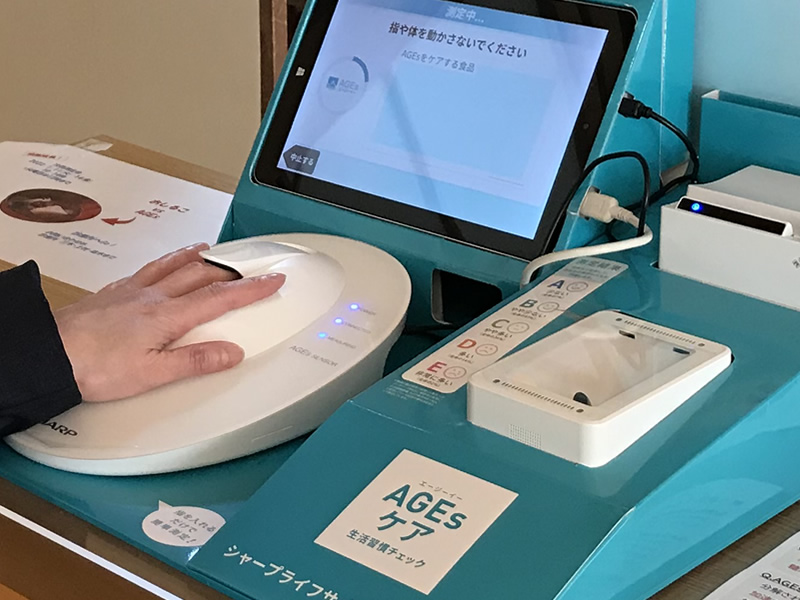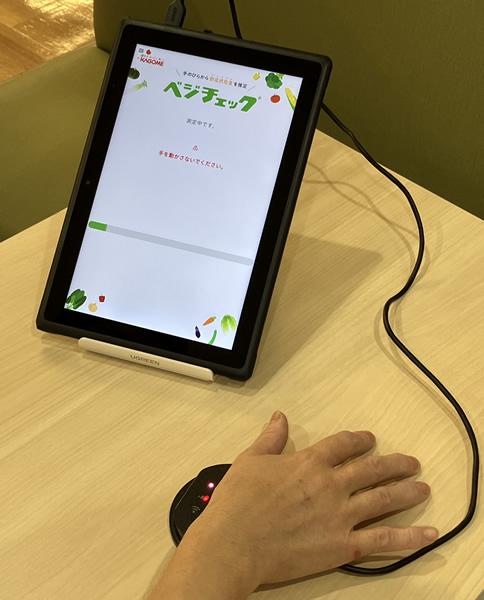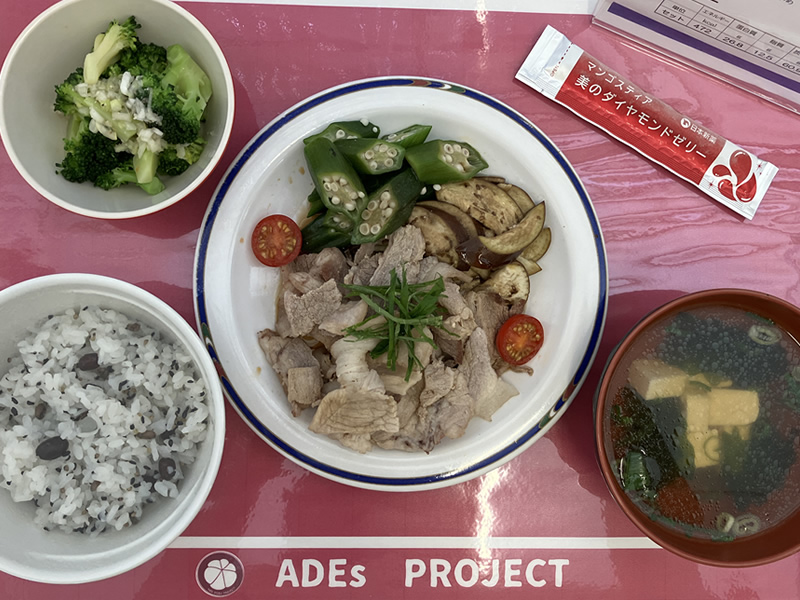 2.Anti-smoking measures
Nippon Shinyaku's anti-smoking measures began in 2004, with the complete separation of smoking and non-smoking areas on the company's premises. In October 2020, the smoking areas were entirely abolished to prevent passive smoking. The company now prohibits smoking throughout working hours, with the aim of achieving an employee smoking rate of 0% by the end of September 2022.
Our anti-smoking measures have caused a year-by-year decrease in the smoking rate, which, however, remained 15.1% in FY2020, at almost the same level as in FY2019. Therefore, we launched a company-wide initiative named "Suwan Cup 2021" in October 2021. The initiative is aimed at raising smokers' awareness of the need to stop smoking and helping them quit with the support of non-smokers. Some of the company's actions under the initiative include conducting a questionnaire survey on smoking, presenting mementos, holding round-table talks, and supporting medical treatment for smoking cessation through the health insurance association (providing financial support to cover the cost of receiving outpatient or online treatment for smoking cessation).
Nippon Shinyaku shares with all employees information
on anti-smoking measures on the 22nd of every month.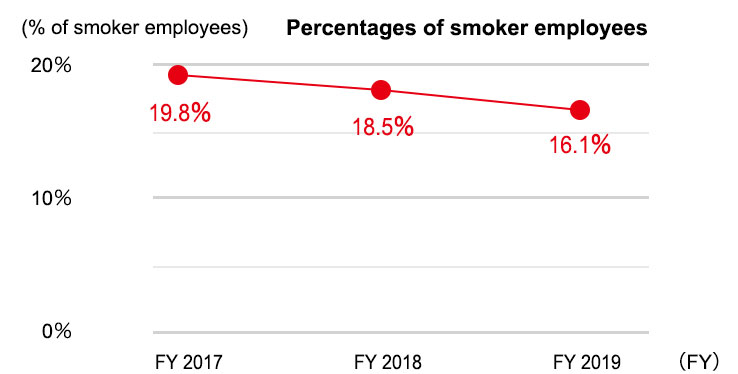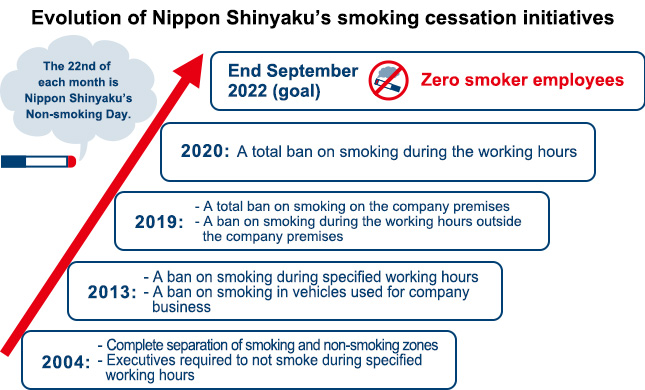 3.Measures against diseases
We encourage employees whose medical checkup results include abnormalities to undergo follow-up checkups. At business locations where industrial physicians are stationed, the physicians interview those employees in person to strongly recommend follow-up checkups after periodical checkups. The health insurance association provides financial support to cover the cost of thorough medical examinations with no age limit, which are recommended as an alternative to follow-up checkups.
Although the percentage of eligible employees who underwent follow-up medical checkups in FY2020 remained at almost the same level as in the previous fiscal year, we have started to implement similar measures targeting all employees.
4.Measures to prevent infectious diseases
To combat the spread of COVID-19, Nippon Shinyaku has thoroughly informed employees about preventive measures that they can adopt themselves. The company has also produced a manual on responses to actual COVID-19 cases and defined and articulated the necessary in-house procedure. The mutual aid association held lectures to provide employees with opportunities to learn about COVID-19 harassment.
Moreover, in support of the Citrus Ribbon Project, the Nippon Shinyaku Baseball Club spearheaded an initiative to call for local residents to eliminate discrimination concerning COVID-19 and build a community where everyone can live comfortably.
To enable employees to work safely at the office, we limit the number of people who can be in a meeting room at the same time and have set up personal booths and open spaces (by installing partitions and other means). In addition, to enable the company to function with remote work even in ordinary times when there is no declared state of emergency, we are striving to increase the number of teleworking employees and improve our communications network.
Furthermore, as a social contribution in terms of COVID-19 control, we administered workplace COVID-19 vaccinations to employees in July 2021, earlier than many other companies in the pharmaceutical industry. We are also positively utilizing area vaccinations at business locations where it is difficult to administer workplace vaccinations. To encourage employees to be vaccinated, we have created a special leave system, and in-house clinics provide follow-up support for employees who experience side effects of the vaccine.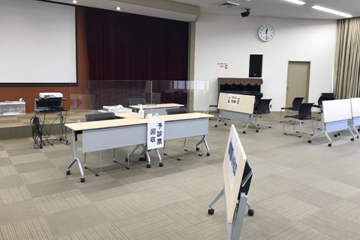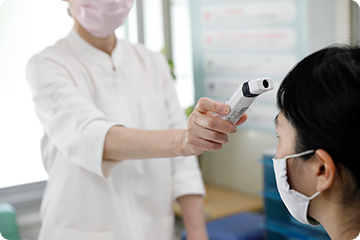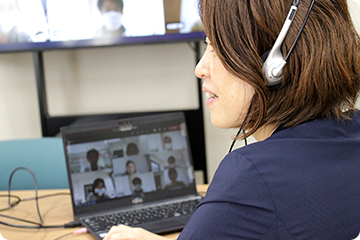 5.Enhancement of communication
In FY2020, we introduced an app with a praise function and established a mechanism for facilitating active communication between employees with the aim of creating a corporate climate of mutual respect.
A collective analysis of stress check results revealed that the COVID-19 pandemic had made many employees feel concerned about their future and that telework had led to a lack of communication between employees.
Since July 2021, we have held one-on-one meetings throughout the company to facilitate active communication between superiors and their subordinates.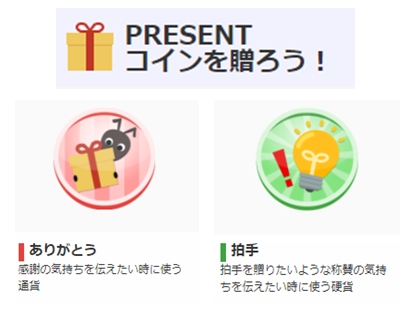 Appreciation by External Parties
Health and productivity ― White 500 ―
Nippon Shinyaku has been certified as one of the 2022 "White 500" Enterprises Outstanding in Health & Productivity Management jointly by the Japanese Ministry of Economy, Trade and Industry and Nippon Kenko Kaigi. The Company has obtained this certification for the second consecutive year (for the third time), after FY2021.
Smart Meal
Nippon Shinyaku has been consecutively certified as a Smart Meal provider for employees by the Consortium for Healthy Meals and Dietary Environments since 2019.
Sports Yell Company
Nippon Shinyaku has been certified as a Sports Yell Company 2022 by the Japan Sports Agency, just as it was in 2020.