Following Nippon Shinyaku's fundamental idea that "employees and their families who support them should enjoy good physical and mental health, creating a workplace that overflows with smiles and vitality," we strive to realize a healthy and comfortable workplace environment as a step to realizing our Business Philosophy and Management Policy.
Health Declaration
In 2018, Nippon Shinyaku announced its Health Declaration, stating the company's approach to the health maintenance and enhancement of all employees and their families who support them through the improvement of the workplace environment and working conditions and health management initiatives. Meanwhile, the COVID-19 pandemic has transformed the way we work, prompting Nippon Shinyaku to redefine its commitment to health management. The Nippon Shinyaku Health Declaration 2020 was thus issued. On the occasion, in an interview, President Shigenobu Maekawa shared with the whole Nippon Shinyaku family his ideas and feelings behind the new Health Declaration, as well as his personal approach to health maintenance. This has greatly helped the employees to raise their awareness of health management.
For company-wide health management to progress effectively, health literacy on the part of each and every employee is essential. Heightened individual awareness results in positive change in behavior. Believing that this should also positively influences families and others around these individuals, we are moving toward our goal of health management, well-being for all.
Nippon Shinyaku Health Declaration 2020
Two years have passed since we announced the Nippon Shinyaku Health Declaration 2018, in which we expressed our commitment to promoting health management.
Since then, the COVID-19 pandemic has largely modified the way we work and conduct our daily activities. As we continue with many aspects of our daily lives restrained, this situation has also provided us with the opportunity to recognize anew the importance of health.
Health is not something that is given from someone else. It is our own responsibility to strive to maintain and enhance our health. Within Nippon Shinyaku, all employees' well-being, being in good physical and mental health, is the very goal of the company's health management.
With this Health Declaration 2020, Nippon Shinyaku defines the goal of its health management as becoming a company that goes beyond being an easy place to work, creating a healthy workplace that makes work more worthwhile and adds purposefulness in life. We hereby declare that toward this goal we strive to support all employees' health and well-being and realize a workplace full of smiles.
October 1, 2020
Shigenobu Maekawa
President
Nippon Shinyaku Co., Ltd.
Organizational Chart
Nippon Shinyaku pursues its health management by planning and implementing related measures based on deliberations among those in responsible positions, including top management, and coordination among the health insurance union, the labor union, and the Health Promotion Office. For these measures to be embraced and practiced throughout the company and for actual workplace situations and employees' wishes to be incorporated into the measures, persons in charge of health enhancement are designated throughout the company to form an organization dedicated to well-being, separately from occupational health and safety.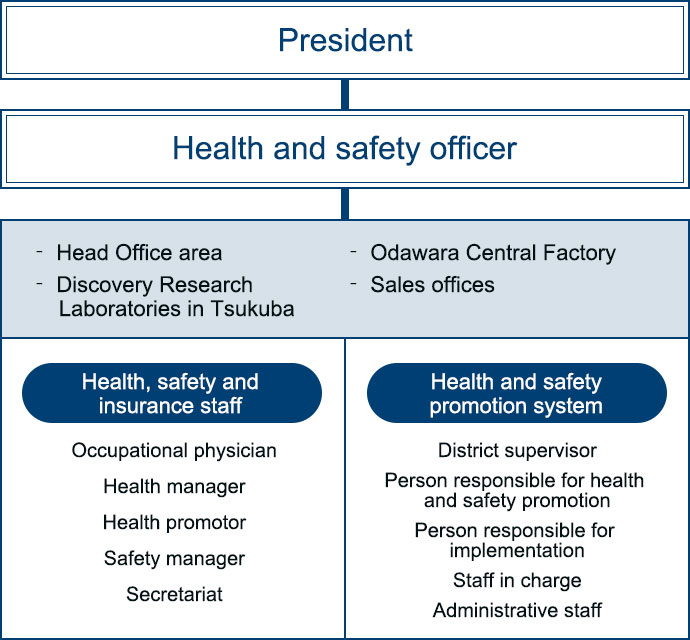 Promotion of Health Management
The company's health-related measures cannot bring about change in individual employees' behavior if they are not fully aware of the importance of good health and do not get personally involved. It is for this reason that Nippon Shinyaku organizes various seminars and participatory events to provide employees with opportunities to reinforce their health consciousness and form the habit of regularly reexamining their lifestyles from the perspective of health maintenance and enhancement.
Improving employees' health literacy
Nippon Shinyaku organizes a range of seminars and provides useful information to help employees improve their health literacy, which in turn is expected to motivate them to further improve their lifestyles with regard to their physical and mental health.
Year of start
Measure
Description
2016
Walking event "Hokatsu"
Participants form teams using a smartphone app and compete in the number of steps walked
2019
Health Stretch Seminar
Learning stretch exercises effective to alleviate eye strain and stiffness in the neck
Introduction of smart meals into the company cafeteria
Company-wide walking event (held twice per year)
"RIZAP" Health Seminar
Seminar introducing readily applicable daily tips related to diet, exercise, and the routinization of healthy habits and gestures to raise participants' health consciousness and motivate them to improve their lifestyles
Health Challenge Campaign
Event in which participants take courses of their choice to learn about lifestyle improvement and health enhancement while having fun
2020
Anti-aging care (glycation control) seminar
Seminar about the effects of the glycation of sugar and protein in the body and concrete countermeasures
AGE measurement at the Head Office
Measurement of advanced glycation end-products (AGEs)
"Vegi Check"
Measurement of insufficiency of vegetable intake
Questionnaire survey on health issues
Survey on the status of presentism
Seminar on gynecological checkups
Lecture by a speaker with a related personal experience on the importance of gynecological checkups and reconciliation of her work life with health maintenance
The numbers of participants and teams in the walking event "Minna-de-Hokatsu"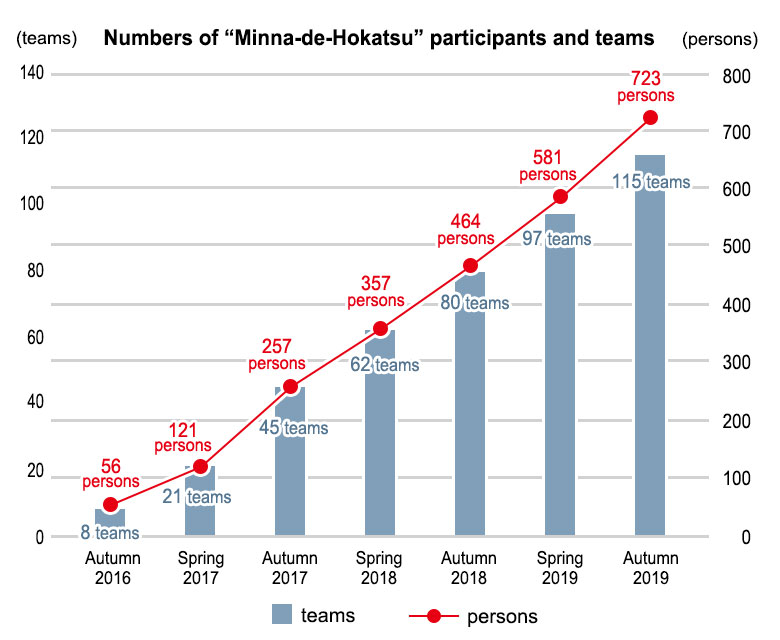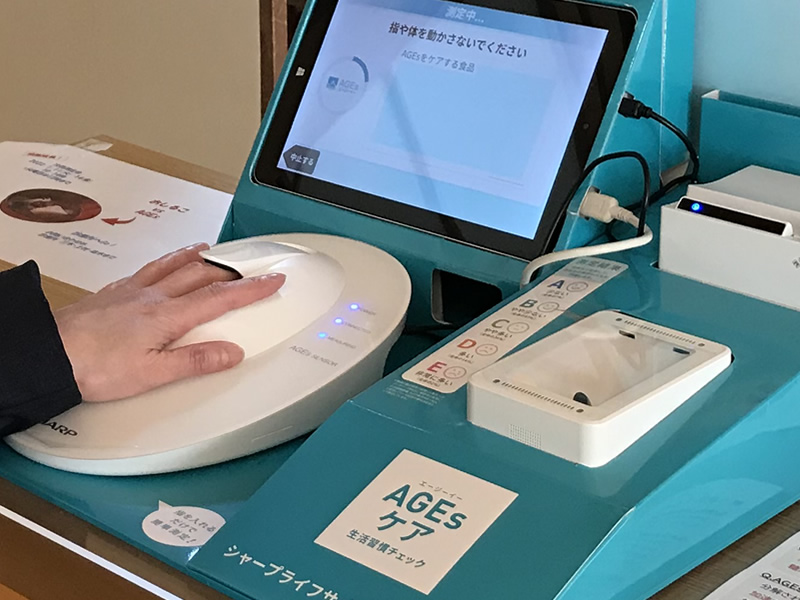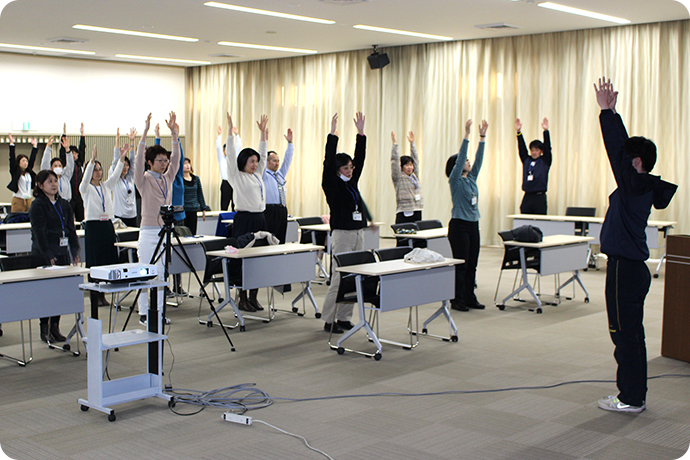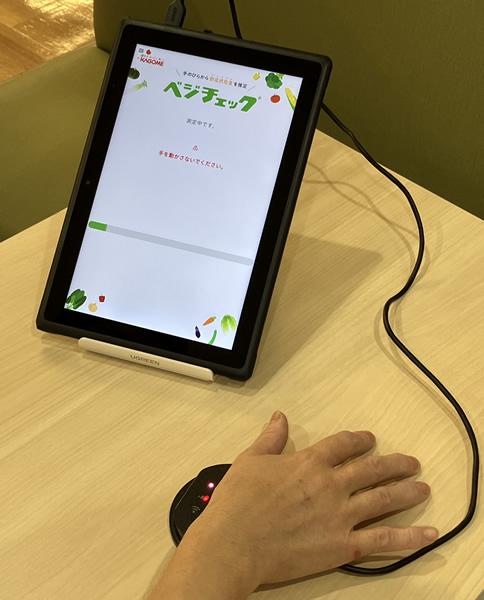 Anti-smoking measures
Nippon Shinyaku's anti-smoking measures began in 2004, with the complete separation of smoking and non-smoking zones on the company premises. In October 2020, smoking was completely banned during the working hours, and measures were adopted to realize a physical workplace environment totally free of smoking, including the introduction of passive smoking control measures. We are now working toward zero smokers among the employees by the end of September 2022.
Although the percentage of smokers gradually dwindled from FY 2017 to FY 2019, it has remained relatively high at 18.1% among employees aged 40 and older. Nippon Shinyaku has been providing support to further encourage smoker employees to quit the habit, offering financial assistance to cover expenses for outpatient or online smoking cessation consultations.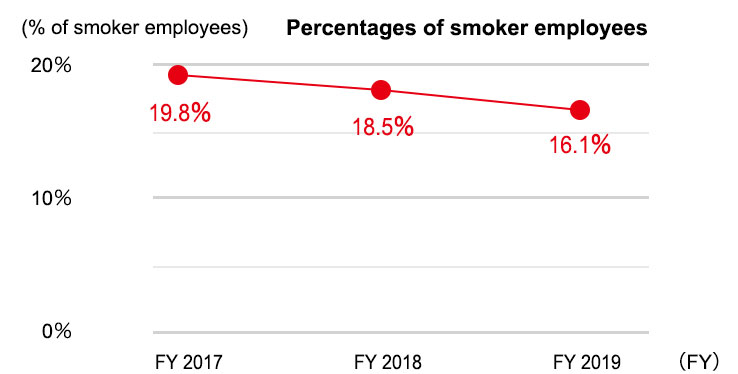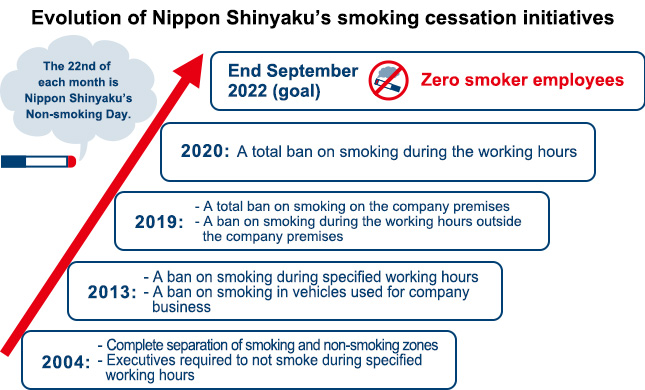 Lifestyle Improvement
At Nippon Shinyaku, there have been cases wherein, after the company's periodical medical checkups, employees advised to seek medical attention or have a more thorough examination did not follow up on the advice and ended up in a worsened condition due to the lack of adequate medical care.
A detailed analysis of the results of periodical medical checkups from FY 2017 through FY 2019 revealed that the number of employees with risks of lifestyle-related diseases, as indicated by obesity, blood pressure, and blood sugar level, increased during the three-year period. Some employees with revealed risks do not seek medical attention. Since persons with lifestyle-related diseases remain asymptomatic for a long while in many cases, the company devises measures that help employees improve their daily habits, offering opportunities other than periodical medical checkups to take one's pulse, including anti-aging care seminars on the theme of glycation jointly organized by the Functional Food Division.
Criteria
FY 2017
FY 2018
FY 2019
BMI (ordinary)
BMI 18.5 or above and below 25
65.8%
65.2%
66.2%
Non-smoker
Checked with a questionnaire survey during medical checkup (smoker or not)
80.6%
81.4%
83.6%
Blood sugar level (normal range)
Medical checkup criteria
(Ministry of Health, Labour and Welfare)
82.0%
81.7%
81.0%
Blood pressure (normal range)
76.8%
75.5%
76.7%
Lipid (normal range)
49.9%
48.2%
46.5%
Hepatic function (normal range)
72.0%
72.1%
70.6%
Metabolic syndrome (not corresponding)
Definition of persons requiring specified healthcare guidance
78.5%
79.2%
79.8%
Regular physical exercise (yes)
Checked with a questionnaire survey during medical checkup
(Light exercise of at least 30 minutes, at least twice per week for at least a year)
25.9%
29.2%
31.5%
Prevention of infectious diseases
To combat the spread of COVID-19, Nippon Shinyaku has thoroughly informed personnel of preventive measures that can be implemented individually. Responses to cases wherein infection is suspected and conditions for determining whether or not to go to the workplace are also thoroughly shared among employees to contain the spread of infection.
Nippon Shinyaku has also devised other preventive measures that are aimed at improving the workplace environment and working conditions: a manual of actions in response to workplace infection, the installation of COCOA on company cell phones loaned to all employees, the expansion of scope of telework and network circuits, the installation of acrylic panels in company conference rooms for social distancing and prevention of droplet spread while at work, renovation of the company cafeteria, and so on.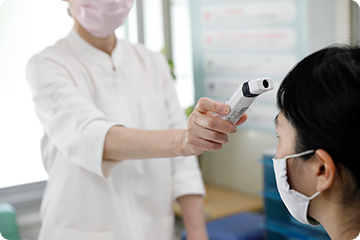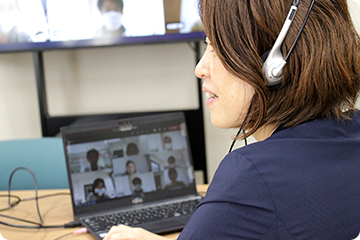 KPI
For its health management, Nippon Shinyaku has adopted the percentage of employees with body mass index (BMI: at or above 18.5 and below 25) and the percentage of smoker employees as key performance indicators (KPI).
This resonates with the Health Declaration 2020, President Maekawa's ideas about the health of employees and their families, discussed in the interview mentioned above, and the company's firm determination to reduce the risks of lifestyle-related diseases among employees.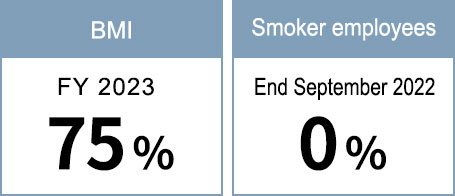 Appreciation by External Parties
Nippon Shinyaku has always worked on the improvement of employees' health, previously mainly as part of occupational health and safety activities, adopting measures for the prevention of long working hours, early response to mental health issues, review of the way employees work, and so forth. With the announcement of the new Health Declaration, we have reinforced our initiatives, achieving positive results. In 2021, Nippon Shinyaku has been selected for the second consecutive year for the list of Companies with Excellent Health Management ("White 500") by the Ministry of Economy, Trade and Industry and the Nippon Kenko Kangi (Japan Health Council).