Current Medium-term Management Plan
Business environment surrounding the pharmaceutical segment
The Japanese pharmaceutical industry is expected to face growing uncertainties as environmental changes, some even greater than ever before, continue to confront the industry, including fundamental reform in the healthcare system geared to reinforce the cost-cutting measures, advances in innovative technologies, and industrial reorganization.
The 6th Five-year Mid-term Management Plan for Sustainable Growth 
- In pursuit of further originality -
In the pharmaceutical segment, we continue to serve as many patients around the world as possible through our quality pharmaceutical products with distinctive features, centering on our four fields of focus (urology, hematology, intractable and rare diseases, and gynecology) with a special emphasis on unmet therapeutic needs. In the functional food segment, we strive to provide high value-added products that perfectly meet market needs, mainly in our four fields of focus (health food ingredients, preservatives, protein preparations, and supplements).
Through these initiatives, we strive to achieve sustainable growth and attain our target image of a company with a meaningful existence in the healthcare field, appreciated all over the world.
Six Actions of the 6th Five-Year Medium-term Management Plan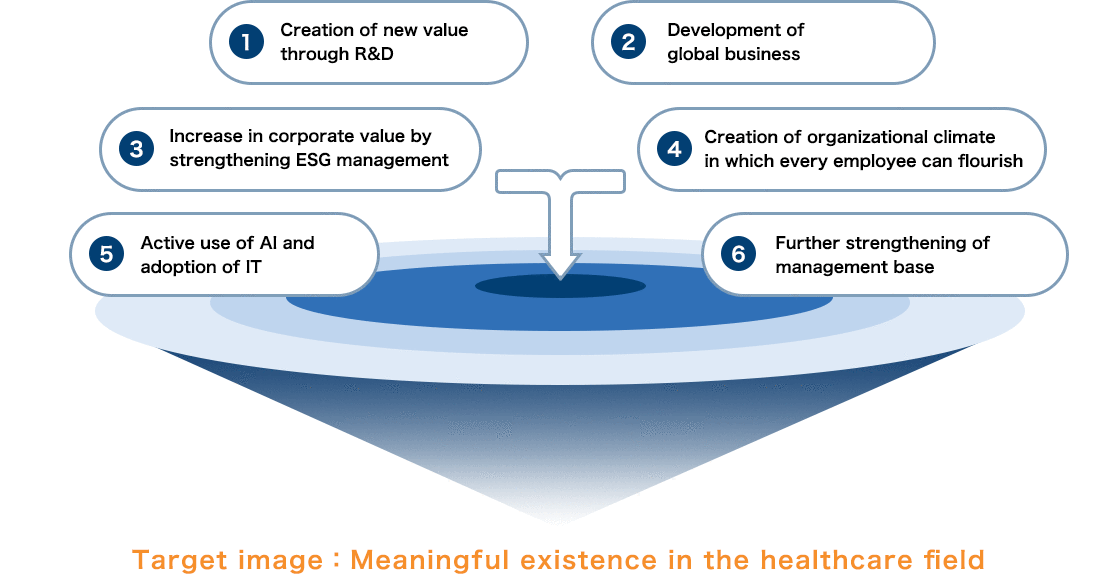 Business situation of the pharmaceutical segment
FY2018
Medium-term targets
CAGR
Net sales
114.7 billion yen
150 billion yen
5.5%
Pharmaceuticals
100.2 billion yen
133 billion yen
5.8%
Functional food
14.4 billion yen
17 billion yen
3.4%
Operating income
20.6 billion yen
40 billion yen
14.2%
Net income attributable to owners of the parent
16.3 billion yen
30 billion yen
13.0%
EPS
242 yen
445 yen
13.0%
ROE
10% or more throughout the Plan term
Nippon Shinyaku 6th Five-Year Medium-term Management Plan (FY2019-2023)
Basic Capital Policy
Nippon Seiyaku aims at medium- and long-term enhancement of corporate value by ensuring to rapidly capture sustainable growth opportunities while appropriately managing accompanying risks. To do so, we maintain sufficient equity capital at a level necessary for growth-oriented investments, including strategic, R&D, and capital investments, implementing stable dividend payments and flexible financial measures.
Nippon Shinyaku considers earning capacity and capital efficiency as important management indicators and discloses targets for these indicators.
In implementing capital policy measures that may cause a major change in control or stock dilution, including capital increase and MBO, Nippon Shinyaku undergoes necessary formalities without fail and fully informs its existing shareholders in advance so as not to unfairly compromise their interests.
Medium-term Management Plan